Gemma's Microwave Cheesecake.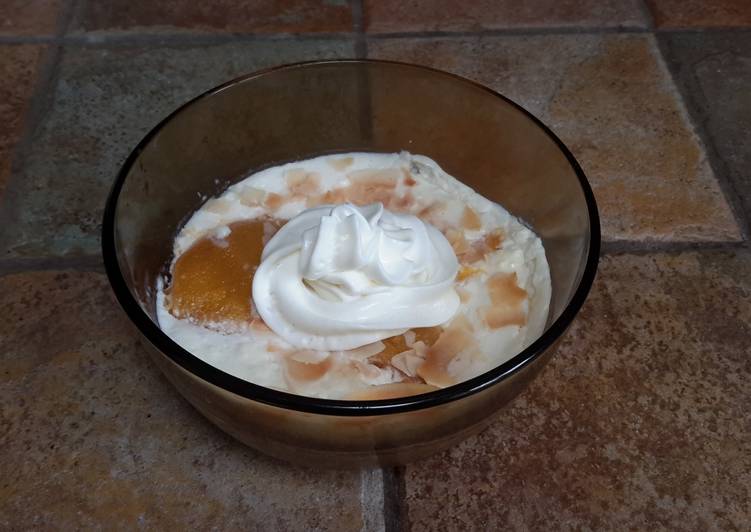 You can have Gemma's Microwave Cheesecake using 7 ingredients and 7 steps. Here is how you achieve that.
Ingredients of Gemma's Microwave Cheesecake
You need 1/2 cup of graham crackers.
You need 4 oz of cream cheese.
You need 1 cup of sour cream or yogurt.
Prepare 4 tbsp of sugar.
Prepare 1/2 tsp of vanilla extract.
It's 2 each of egg whites, slightly beaten.
Prepare 1 tbsp of flour.
Gemma's Microwave Cheesecake instructions
Use a food processor and grind the graham crackers to a semi-fine base for the cheesecake base..
Blend the rest of the ingredients in a medium size bowl, use a wisk to add "fluff.".
Sprinkle a layer of graham cracker in the bottom of a mug, cup or dessert bowl (next time I make this I plan to add a little melted butter to "harden" the crust a little.).
Pour 1/4 of the cheesecake mixture into each mug, cup or bowl..
Place, one at a time in the microwave, and cook for 15 seconds, then check. The edge should be firm and the middle should jiggle a little. Keep cooking for 15 minutes at a time. Should be ready between 45 seconds to 30 seconds. It depends on the type mug, cup or bowl you use..
Refrigerate for two or more hours..
You can use an Oreo cookie base and add cookie chunks to the mixture. I have made adding blueberries and with peaches. Use your imagination..