Egg less Rainbow Cake.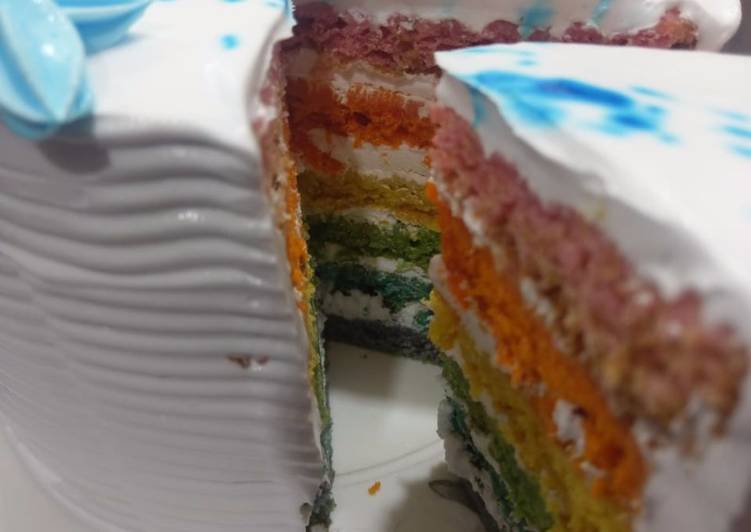 You can cook Egg less Rainbow Cake using 13 ingredients and 20 steps. Here is how you achieve that.
Ingredients of Egg less Rainbow Cake
It's 2 1/2 cups of white granulated sugar.
It's 1 cup of butter.
Prepare 1 tablespoon of vanilla extract.
You need 1 cup of buttermilk.
Prepare 1/4 cup of heavy whipping cream.
Prepare 3 cup of flour.
It's 1 tablespoon of baking powder.
It's 1/2 tsp of salt.
Prepare of Food coloring :red, orange, yellow, green, blue, and violet.
You need 12 oz of cheese cream.
It's 6 cup of powdered sugar.
You need 1 tbsp of vanilla extract.
It's 1 1/2 cups of butter softened (do not melt).
Egg less Rainbow Cake instructions
Preheat oven to 325 F..
Grease and flour 6 (9-inch cake pans.) I only had 3 pans so I had to bake in two rounds..
In a large bowl cream together sugar and butter..
Mix in vanilla extract, buttermilk and heavy cream..
Mix in half of the flour, baking powder, and salt..
When mixture is combined, mix in the rest of the flour..
Divide the batter into six bowls (about 1 cup of batter per bowl).
Add food coloring to each bowl to create a vibrant red, orange, yellow, green, blue, and violet..
Pour each colored batter into the prepared pans and spread out into an even layer. (layers will be thin).
Bake for 10-15 minutes or until center is set. Do not overbake..
Remove from oven and let cakes cool in the pan until pans are warm enough to touch..
Run a spatula around the edges of the pans to loosen the cake and then very carefully remove the cakes from the pans..
Let it cool completely.
Meanwhile make the cream cheese frosting by creaming together cream cheese and butter..
Mix in powdered sugar and vanilla..
Place the violet layer down first and frost..
Followed by the blue layer, green layer, yellow layer, orange layer and finally the red layer. (frost between each layer).
Place a thin coat of the icing on the cake to create a crumb coat. This will make the cake even all around and seal any loose crumbs..
Once the crumb coat is set, finish frosting the cake..
Slice & serve!.