Pistachio Tart.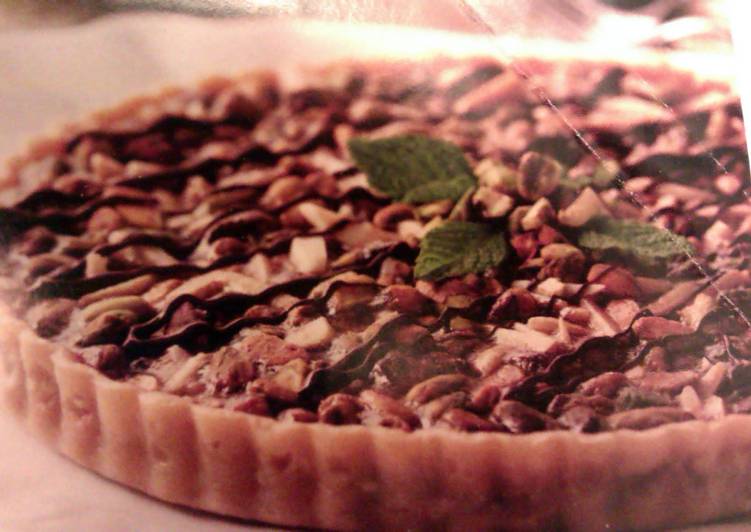 You can cook Pistachio Tart using 9 ingredients and 7 steps. Here is how you cook that.
Ingredients of Pistachio Tart
Prepare 1 of Refrigerated Ready-Made Crust.
It's 3 cup of Pistachio Kernels (Divided).
Prepare 1 cup of Sliced Almonds.
It's 5 tbsp of Butter.
Prepare 3/4 cup of Light or Dark Brown Sugar.
You need 1/3 cup of Dark Corn Syrup.
Prepare 2 tbsp of Half-and-Half.
It's 1/2 tsp of Vanilla Extract.
You need 1/4 cup of Chocolate Chips (Melted).
Pistachio Tart step by step
Preheat oven according to piecrust package directions..
Line 9-inch tart shell with piecrust. Bake as instructed for a single-crust pie until golden..
Pour 2 cups pistachio kernels and the sliced almonds over the crust in a single layer. Chop the remaining cup of pistachios; set aside..
Preheat oven to 350°F..
In a heavy saucepan over medium heat, melt butter with brown sugar, corn syrup, half-and-half, and vanilla. Bring to a boil, stirring constantly. Pour the hot mixture over the pistachios and almonds..
Bake for 10 minutes, or until bubbly and golden. Let cool on a rack..
When cool, drizzle with melted chocolate and garnish with chopped pistachios..