French Onion Tart.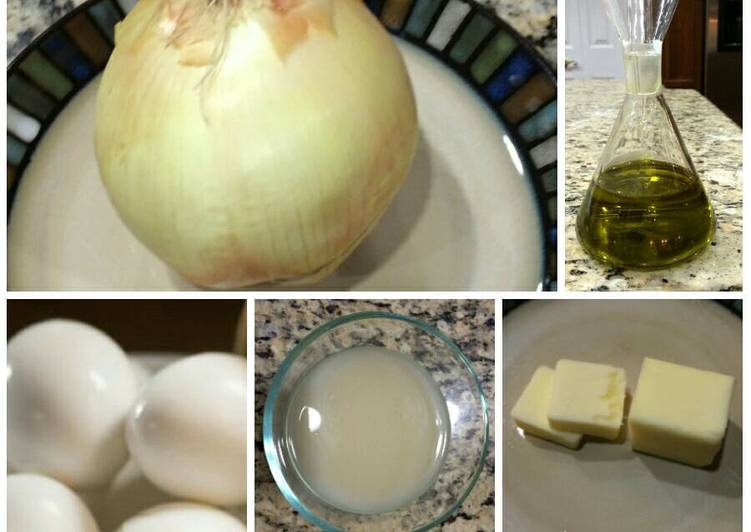 You can cook French Onion Tart using 17 ingredients and 18 steps. Here is how you cook that.
Ingredients of French Onion Tart
It's 1 tbsp of extra virgin olive oil.
You need 1 tbsp of butter.
It's 2 lb of yellow onions, peeled & sliced thin.
You need 2 of sprigs fresh thyme – leaves removed & stems discarded.
It's 1 of Sea salt and freshly ground pepper, to taste.
You need 1 large of egg, lightly beaten.
Prepare 1 tsp of sherry vinegar.
It's 1 of ½ cup beef, vegetable or mushroom broth.
It's 2/3 cup of (2 oz.) Gruyere cheese, shredded.
Prepare 1 of ½ cup cream or half and half.
You need of For the cheese pastry crust.
It's 1 of ¾ cups (110 grams) whole wheat pastry flour.
Prepare 1 of ¼ tsp. (2 grams) fine sea salt.
It's 1 of ¼ tsp. paprika.
You need 1 cup of (3 oz.) Gruyere cheese, shredded.
It's 4 of Tbsps. (2 oz.) very cold butter, shredded using a box grater.
You need 1 of to 2 Tbsps. cold seltzer.
French Onion Tart instructions
To make the filling: Heat the olive oil and butter in a heavy-bottomed pot over medium-high heat..
Add the onions and sauté for 2 minutes..
Cover pot, reduce heat as low as it can go without shutting off, and let cook until onions have cooked down and released a lot of their liquid, about 20 minutes..
Prepare the crust: Add the flour, salt, and paprika to the bowl of a food processor..
Pulse once or twice to mix the dry ingredients.
Add the cheese and butter, and then pulse a few times until it forms a sandy-looking mixture.
Add 1 Tbsp. of seltzer, pulse again until a rough ball of dough comes together. If the mixture is too dry and crumbly, add more seltzer 1 tsp. at a time (you may not need the entire 2 Tbsps.),and continue to pulse until you have a ball of dough..
Turn the dough out onto an un-floured counter, flatten and shape into a disk. Wrap in plastic wrap and chill for 30 minutes..
Preheat the oven to 400ºF.
Filling continued: Remove cover from the pot of onions, raise heat to medium, and add the thyme and season with salt and pepper..
Let the onions cook, stirring occasionally to scrape the browned bits from the bottom of the pot,until onions turn golden brown, about 30 to 35 minutes..
When onions are golden and very tender stir in the sherry vinegar and broth of choice. Cook and stir until most of the broth has vaporized..
Remove from heat and, using a slotted spoon, transfer onions to a medium bowl.
NOTE: Let cool a bit before adding cream/egg mixture.
Crust continued: Place the chilled dough between two sheets of parchment paper, and roll it into a 13-inch circle..
Peel the top parchment layer off and reverse the dough into the prepared tart pan, lifting the sides to drape (rather than pressing/stretching the dough) the dough into the corners. Press the dough the rest of the way in and up the sides, leaving a 1-inch high crust..
Filling finish: To finish the filling, in a small bowl beat the egg and cream (half and half) together, and then add the mixture to the bowl with the onions. Stir to mix well..
Overall finish:Pour mixture over the tart crust and spread to the edges. Sprinkle cheese on top. Bake for 25 minutes, until slightly puffed and golden.Remove from oven and let cool for 5 to 10 minutes before slicing..