Avocado pesto Brown rice Fusilli. Pesto rice is a quick and delicious side dish recipe using only three ingredients. This super simple pesto rice recipe is full of wonderful flavor. This is a fabulous recipe to serve alongside a roast chicken or meatloaf for an easy.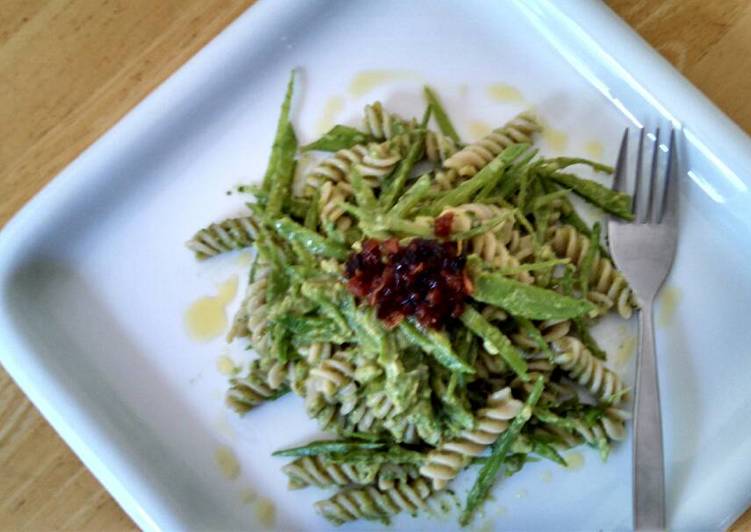 You can also find these types of cakes made with corn, quinoa, brown rice, etc. Spread a thin layer of avocado on each rice cake. Top with sliced eggs (or fried eggs), alfalfa sprouts and a few capers. You can cook Avocado pesto Brown rice Fusilli using 9 ingredients and 3 steps. Here is how you achieve it.
Ingredients of Avocado pesto Brown rice Fusilli
Prepare 57 grams of Bown rice pasta.
Prepare 1/2 of avocado.
You need 1/2 cup of basil.
It's 1/2 cup of cilantro.
It's 1/4 of lemon.
It's 1 Tsp of Extra virgin olive oil.
It's 1 pinch of salt.
You need 1 tsp of vinegar.
You need 1/2 cup of snow pea.
Short grain brown rice, avocado, red bell pepper, and alfalfa sprouts are rolled in nori seaweed sheets for a delicious vegetarian sushi roll. This avocado sushi recipe goes over the basics of sushi rolling so that you can make your own amazing brown rice sushi. Creamy Avocado Basil Pesto – this recipe uses avocado instead of olive oil to make the most delicious, healthy How to Make Lightened-Up Pesto: A Recipe for Creamy Avocado Basil Pesto. I had it for breakfast with scrambled eggs, lunch with brown rice, watercress, zucchini, spring onions.
Avocado pesto Brown rice Fusilli step by step
Boil the pasta in 2 cups of water following the instructions on package for 9 minutes.
While pasta is cooking, prepare the sauce by chopping all ingredients including half avocado, garlic, basil, cilantro. Put them in a small blender. Drizzle with Olive oil, squeeze in lemon juice, and vinegar. Finally add salt. Blend until smooth..
Once pasta is done, quickly toss them in the sauce. Add shredded snow pea. Adjust seasoning if needed. Top with some chopped nuts. I use homemade XO sauce.
While I've dabbled in a broad spectrum of pestos over the years – basil, cilantro, asparagus, artichoke, green garlic, and even a scape pesto (these are just the green ones!), broccoli pesto was a first for me. And allow me to save you some reading – the key to good, broccoli pesto is to resist the urge to. Most brown rice pastas I've tried have a gritty feeling in my mouth. The addition of quinoa to the brown rice gives this pasta a much better taste and texture. To everyone who has an avocado tree in their backyard, everyone else hates you. by Tashween Ali.