L's Easy Garlic Bread. Stuffed Garlic Chicken Cheese Bread ‍ If you love stuffed bread, This recipe is for you! Make your own Stuffed Garlic Chicken Cheese Bread using the simple steps in my recipe. The secret to really good garlic bread is to keep it simple.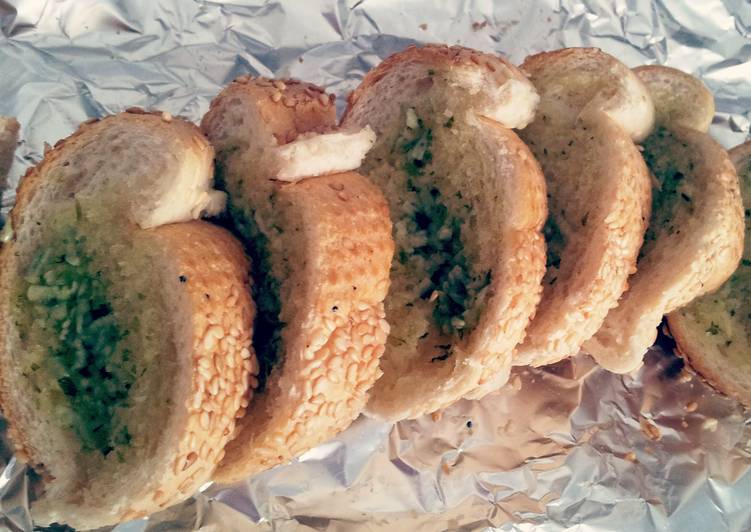 OUR MOST FAVORITE EASY GARLIC BREAD. One of my favorites from childhood is my Momma's garlic bread. She would slather a garlic butter mixture on the bread and throw it in the oven while she was making. You can have L's Easy Garlic Bread using 6 ingredients and 8 steps. Here is how you achieve that.
Ingredients of L's Easy Garlic Bread
Prepare 3 1/2 grams of chopped parsley.
Prepare 2 tbsp of butter.
It's 2 clove of minced garlic.
It's 1/2 of baguette or any long bun.
It's 1 of Salt.
You need 1 of Aluminum foil.
French Bread Pizzas: One of our favorite easy weeknight dinners is french bread pizza. We use the garlic bread as the base, then add on toppings like cheese, pepperoni, tomatoes, balsamic and fresh basil. Meatball Subs: Another family favorite dish to make with it is a baked meatball sub. They are so toasty, cheesy and delicious!
L's Easy Garlic Bread step by step
Preheat oven to 180°c.
Slice the baguette diagnally to acquire pretty slices.
Put the butter in a bowl and microwave for about a minute until it's melted into liquid..
Add the parsley, garlic and salt per taste. Stir well..
Spread on both sides of each slice and place them on aluminum foil to create the baguette shape..
Close the aluminum foil and wrap it up..
Put it in the preheated oven for 20 minutes..
Bon appetit!.
Mix Parmesan cheese, butter, garlic powder, and parsley in a small bowl. This homemade garlic bread recipe has the perfect ratio of garlic, paprika, parsley, butter, parmesan, and mozzarella cheese to make this garlic bread a favorite for all. In a small bowl, combine butter and garlic. Brush over cut sides of bread; sprinkle with parsley. Remove bread when it is toasted golden brown in color. "A very easy recipe for garlic bread that is made with roasted garlic, butter and Parmesan cheese." – Dana.