White Chocolate Mousse Cheesecake with a Fudge Brownie Crust. Transfer cheesecake to a baking pan with a wire rack. In a circular motion starting from the inside out, pour the ganache glaze over the cheesecake making sure to cover all sides. A homemade brownie is topped with a white chocolate cheesecake and adorned with more chocolate and sliced almonds.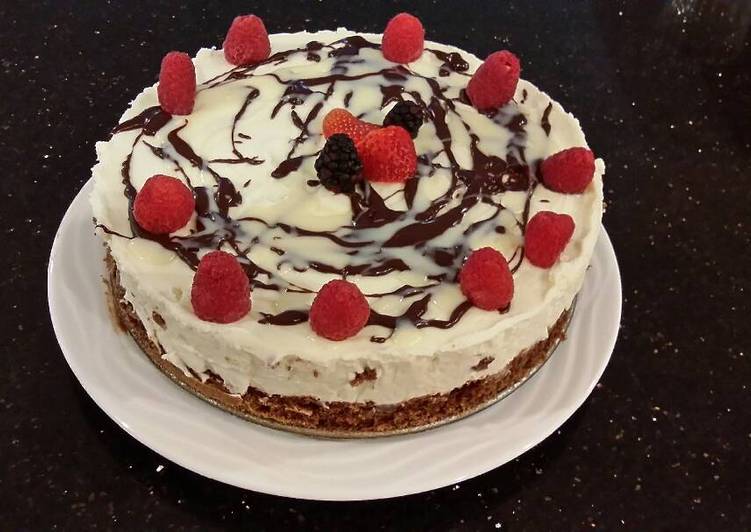 From almonds to dates to cacao powder you can. For the white chocolate mousse, in a medium bowl, beat the cream and vanilla with an electric mixer (handheld or stand mixer) until soft peaks form. Then I baked the cheesecake in the crust and after cooled, I piped the white chocolate mousse on with a piping bag and served it with strawberries. You can cook White Chocolate Mousse Cheesecake with a Fudge Brownie Crust using 20 ingredients and 22 steps. Here is how you achieve that.
Ingredients of White Chocolate Mousse Cheesecake with a Fudge Brownie Crust
It's of for the fudge brownie crust.
Prepare 2 ounces of unsweetened chocolate.
You need 2 of ounces, (1/2 stick or 4 tablespoons) unsalted butter).
Prepare 2 of large eggs.
It's 1 cup of granulated sugar.
Prepare 1/4 teaspoon of salt.
You need 1/2 teaspoon of vanilla extract.
It's 1/2 cup of all purpose flour.
It's of for white chocolalate mousse.
Prepare 2-8 ounce of pacages of cream cheese, at room temperature.
It's 12 ounces of good quality white chocolate chopped, not chips.
It's 2 1/2 cups of heavy whipping cream.
You need 1 1/2 cups of confectioner's sugar.
You need 1/8 teaspoon of salt.
You need 1 1/2 teaspoons of vanilla extract.
You need of For Garnish.
Prepare 2 ounces of semisweet chocolate, melted.
It's 2 ounces of white chocolate, melted.
You need of as needed, fresh fruit, berries off any kind or a combination of berried.
You need of as needed, whipped cream.
This velvety chocolate brownie cheesecake recipe is a dream come true for chocolate lovers. It is an ultra rich and creamy, fancy dessert that will impress your guests And if you're short on time, you can easily skip the brownie crust for a plain chocolate cheesecake that comes together in just minutes. This was one of the best cheesecakes I've ever made. I paired it with a homemade strawberry sauce.
White Chocolate Mousse Cheesecake with a Fudge Brownie Crust step by step
Begin by making white chocolate mousse base, it needs several hours to get cold in the refrigerator.
Have chopped white chocolate in a large bowl. Heat the 2 1/2 cups cream until hot but not boiling in the microwave or on stove top. Pour over white chocolate, let sit 1 minute then stir until smooth. Cool to room temperare then cover and refrigerate until very cols, 2 hours or more.
.
Make fudge brownie crust.
Spray a 9 inch springform pan with bakers spray. Preheat oven to 350.
Melt butter and chocolate in the microwave and stir until smooth. Cool to room temperature.
Beat sugar and eggs until combined.
Add cooled chocolate, vanilla and salt and stir in just until combined.
Stir in flour just until combined.
Pour into prepared springform pan.
Place pan on foil lined baking sheet. Bake 18 to 20 minutes until toothpick comes out with a few moist crumbs. Cool completely before filling.
Make White Chocolate Mousse Cheesecake.
Beat cold white chocolate mixture until fluffy..
In another bowl beat cram cheese until smooth.
Beat in sugar,salt and vanilla into cream cheese until smooth.
Fold white chocolate mixture ino cream cheese in 3 additions until well combined.
Pile onto brownie crust smooth top and refrigerate at least 8 hours or overnight.
Realease sides of springform pan.
Garnish by drizzling with the melted semi sweet chocolate and melted white chocolate..
.
Serve with fresh fruit and whipped cream.
.
White Chocolate Chunk Cheesecake Swirled with Macadamia Nuts and Caramel on a Blonde Brownie Crust. Silky Chocolate Cheesecake Topped with a Layer of Belgian Chocolate Mousse. Our own Fabulous Godiva® Chocolate Brownie, Vanilla Ice Cream, Hot Fudge. I chose to use the double chocolate brownie mix to create this Brownie Bottom Chocolate Mousse Cake. The rich fudgy brownie is topped with a decadent dark chocolate cheesecake mousse.