Simply Delicious Squash Casserole.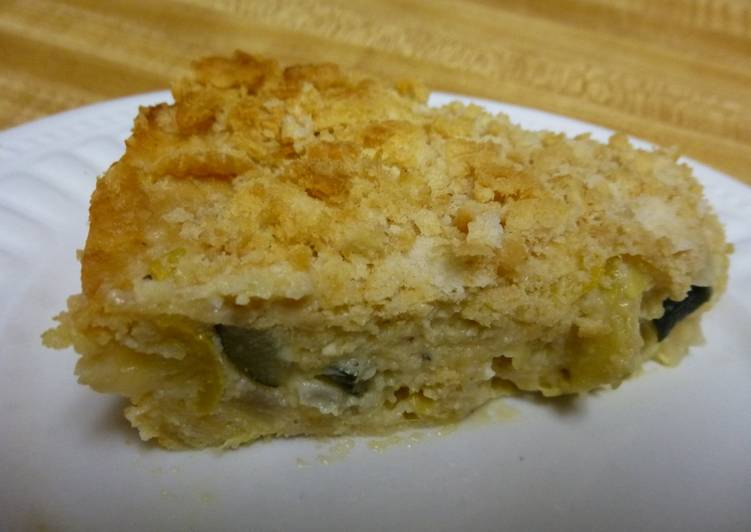 You can cook Simply Delicious Squash Casserole using 11 ingredients and 5 steps. Here is how you achieve that.
Ingredients of Simply Delicious Squash Casserole
Prepare 350 of degrees preheated oven.
Prepare 3 tablespoon of extra virgin olive oil.
Prepare 3 cup of diced squash (your choice) about 1" cubes.
It's 1 of medium yellow onion (diced small).
You need 1 clove of garlic (minced).
It's 2 of eggs.
It's 1/2 cup of whole milk.
You need 1 cup of grated cheese (i use Colby).
It's 2 tbsp of unsalted butter.
You need 20 of Ritz crackers divided.
You need 1 of salt and pepper to taste (i use seasoning salt).
Simply Delicious Squash Casserole instructions
In a small bowl beat together eggs and milk. Set aside..
In a large skillet over medium heat, saute squash and onion in olive oil until it starts to get fork tender. Around 20-25 minutes. Add garlic during the last 2 minutes. Salt and pepper to your taste. Remove from heat..
Add egg mixture, cheese, butter,and ten crushed up Ritz crackers. Combine well. The residual heat should melt everything together. Pour into a buttered baking dish of your choice. I use a 9 " pie plate..
Crush up remaining Ritz crackers and sprinkle evenly over the top. Bake at 350°F for 30 minutes. Let cool for 10 minutes and serve. Enjoy..
In my cover photo I used a mixture of yellow squash and zucchini. I would think butternut or acorn squash would work just as well. Even frozen squash from your grocer will work. I also use some bacon grease when I am sautéing the squash. You can't beat the extra smokey flavor it adds..