Brenda's Pistachio, Cherry and Chocolate Tart.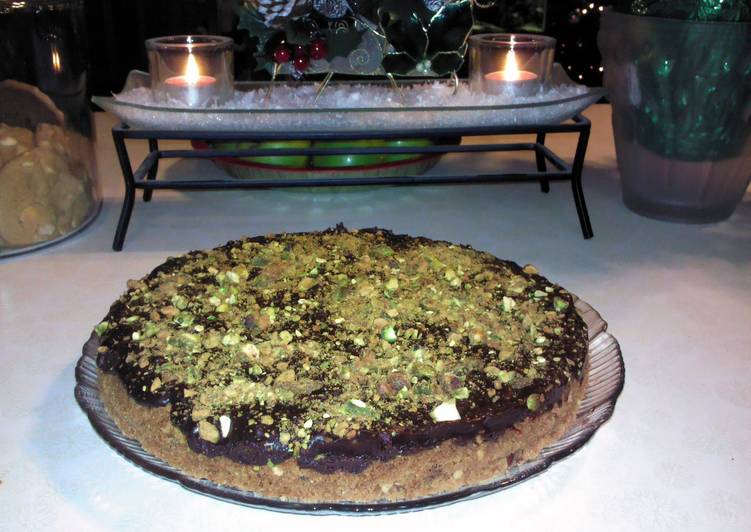 You can have Brenda's Pistachio, Cherry and Chocolate Tart using 11 ingredients and 3 steps. Here is how you achieve it.
Ingredients of Brenda's Pistachio, Cherry and Chocolate Tart
Prepare of Crust.
You need 1 stick of unsalted butter, chilled, cut into 1/2-inch pieces, plus more for greasing pan.
It's 8 of 4 1/2-inch-long plain or almond biscotti cookies, coarsely broken (about 5 1/2 ounces).
Prepare 1/4 cup of packed dark brown sugar.
You need 3/4 cup of cherry preserves or jam, such as Bonne Maman.
It's of Filling.
You need 12 oz of semisweet chocolate chips, such as Ghiradelli.
Prepare 1 cup of heavy cream.
It's 1/2 cup of dried cherries.
It's 3/4 cup of chopped shelled pistachio nuts.
Prepare 1 of Salt flakes, such as Maldon, optional.
Brenda's Pistachio, Cherry and Chocolate Tart step by step
For the crust: Preheat the oven to 350°F. Butter the bottom and sides of a 9-inch springform pan. Combine the biscotti, butter and sugar in a food processor. Blend until the mixture forms moist crumbs that stick together when pressed. Firmly press the crumbs into the bottom of the prepared pan. Bake until golden and feels firm to the touch, about 15 minutes. Cool to room temperature, about 20 minutes. Spread the cherry preserves over the cooled crust leaving a 1/2 to 1-inch border..
For the filling: Place the chocolate chips in a medium bowl. Heat the cream in a medium saucepan over medium heat to just below a boil. Remove the pan from the heat and pour the cream over the chocolate chips. Stir until the chocolate is melted and the mixture is smooth. Add the dried cherries and 1/2 cup of the pistachios. Pour the chocolate filling over the cherry preserves and sprinkle the remaining 1/4 cup pistachios on top. Refrigerate for at least 5 hours or preferably overnight..
Loosen the tart from the sides of the pan by running a thin metal spatula around the edge. Unmold the tart and transfer to a serving plate. Sprinkle with a pinch of salt flakes, if using. Cut into wedges and serve..