Cheese and garlic bread. Angelic Bakehouse makes the best tasting sprouted whole grain bread. Our facility and products are free of milk, eggs, fish, tree nuts, peanuts, soy, & sesame. Best bread – The best bread to use for Cheese and Garlic Crack Bread is crusty sourdough or another dense type of bread, but it works well with plain crusty loaves as well.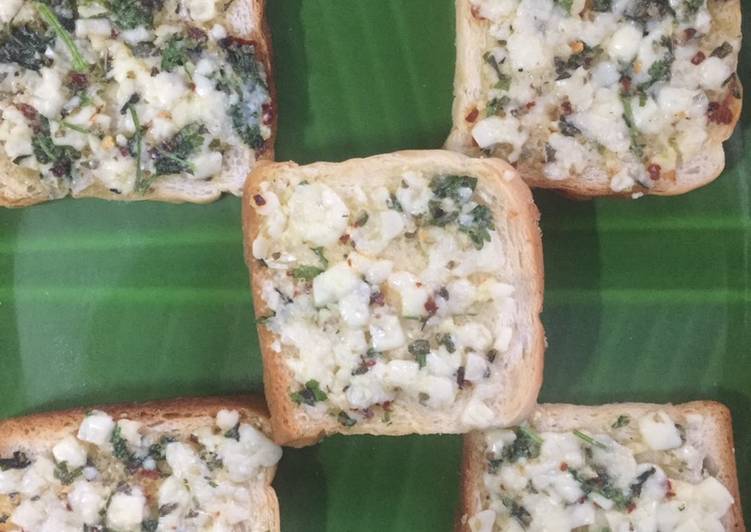 Spread mixture between slices of bread and over the top of the loaf. Wrap loaf in aluminum foil, leaving the top partially uncovered. This bread looks so delicious, my mouth began to water the moment I laid eyes on it. You can have Cheese and garlic bread using 8 ingredients and 3 steps. Here is how you cook it.
Ingredients of Cheese and garlic bread
It's 5 of bread slices.
It's 5 of garlic flakes chopped into fine.
Prepare 5 tablespoons of grated cheese.
You need 1 tablespoon of oregano.
You need 1 tablespoon of basil.
Prepare 1 tablespoon of chilli flakes.
It's 5 tablespoons of melted butter.
Prepare Little of coriander leaves chopped into fine.
I am a bread lover, and nothing is better in my books than a sweet bread roll with garlic and cream cheese. These buttery-sweet rolls are wonderful on their own, but when you slice them while hot, and add cream cheese infused with garlic in the middle, you have got a real winner. Cream Cheese Garlic Bread (육쪽마늘빵) As you can see, I added way too much dried herbs in my recipe. I have since then reduced the amount in the final recipe.
Cheese and garlic bread step by step
Take a bowl add all the ingredients and mix well..
Take a bread slice, marinade it with mixture and then toast it in a toaster or we can make it in a dosa pan also..
We have to wait till the cheese melts and then serve..
Honestly, feel free to add more or less accordingly to your liking. Add the salt and pepper to taste and set aside or keep in the fridge. This is a more robust version, gooey with cheese and warmly, rather than fierily, flecked with chilli. For US cup measures, use the toggle at the top of the ingredients list. World's Best Garlic Bread: Cheesy, buttery, garlic flavored, Italian bread that puts other garlic bread recipes to shame.