Cheesy Garlic Bread. Mix Parmesan cheese, butter, garlic powder, and parsley in a small bowl. Halve a loaf of Italian bread lengthwise, then crosswise. Mix mayonnaise, cheese, onions and garlic; spread on bread halves, if desired, sprinkle with parsley and paprika.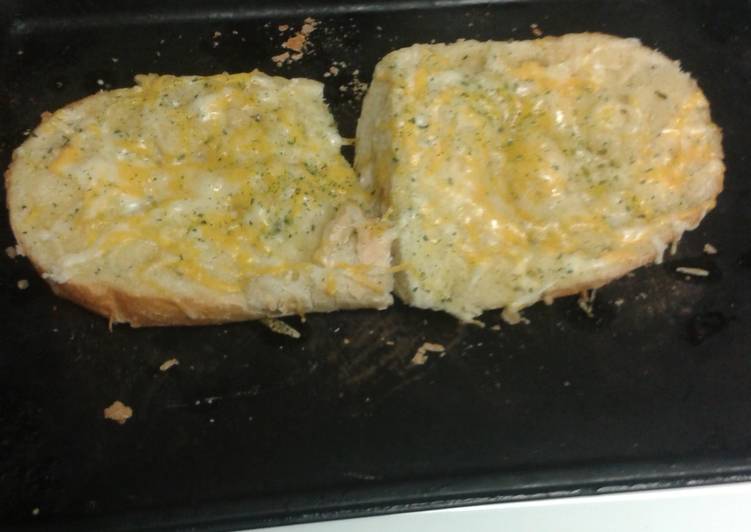 Perfect for dipping in marinara sauce or serving as a side to all your favorite pastas and soups. Here we have the BEST cheesy garlic bread you will try in this lifetime. The perfect amount of garlic and butter together gets smeared all over your bread before anything else hits it. You can have Cheesy Garlic Bread using 4 ingredients and 6 steps. Here is how you achieve it.
Ingredients of Cheesy Garlic Bread
Prepare 1 of loaf french bread.
It's 1/2 cup of garlic butter.
Prepare 1 cup of grated cheese.
You need 1/4 cup of chopped parsley.
Then, a faultless blend of two cheese: mozzarella and parmesan, is sprinkled all over the top. So easy and super quick to throw together. This cheesy garlic bread is made with butter, fresh garlic, shredded mozzarella cheese and has a secret ingredient that takes it over the top! This cheesy garlic bread is hands-down my ultimate garlic bread.
Cheesy Garlic Bread instructions
Preheat oven to 350°F..
Slice bread in half length wise..
Spread your garlic butter evenly on both halves..
Then sprinkle your cheese evenly on both halves..
Then sprinkle the chopped parsley on top of both halves..
Bake in oven for about 10 -11 minutes..
It's pretty much a meal in itself. Serve it with some marinara sauce and you have an amazing appetizer. World's Best Garlic Bread: Cheesy, buttery, garlic flavored, Italian bread that puts other garlic bread recipes to shame. This homemade garlic bread recipe has the perfect ratio of garlic, paprika, parsley, butter, parmesan, and mozzarella cheese to make this garlic bread a favorite for all. Turn plain french bread into cheesy, garlicky perfection with the best Cheesy Garlic Bread recipe.