Simple Crispy Garlic Bread. Angelic Bakehouse makes the best tasting sprouted whole grain bread. Our facility and products are free of milk, eggs, fish, tree nuts, peanuts, soy, & sesame. This garlic bread is easy, crispy and tastes so darn good.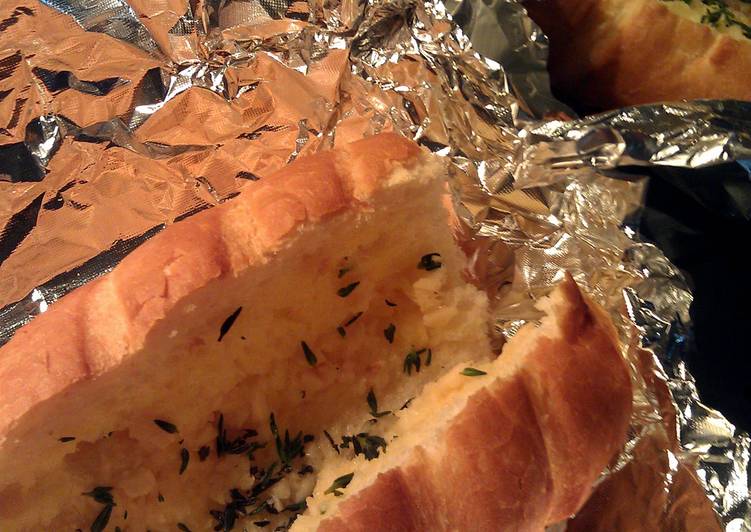 You can double the recipe to feed a crowd or add more garlic or less depending on how garlicky you like your bread. Brush the oil onto the bread, placing. Easy Garlic Bread is the best and easiest side dish to pasta dinner or soups! You can have Simple Crispy Garlic Bread using 4 ingredients and 7 steps. Here is how you cook it.
Ingredients of Simple Crispy Garlic Bread
It's 1 of bread roll.
It's 1 of parsley.
It's 1 of crushed garlic clove.
It's 1 of butter.
Crispy, warm bread with buttery garlic topping is even better made at home. I serve this bread with a big bowl of Broccoli Cheese Soup or Mac and Cheese. In a small bowl, mix garlic with butter, mint or parsley, and salt to taste. For our Crispy Garlic Bread recipe, nothing could top a hearty Italian loaf when it came to getting thick, crunchy slices.
Simple Crispy Garlic Bread instructions
Preheat oven to 180°F.
Using your knife, cut the bread roll in half (like your making a sandwich). Don't cut all the way, but just enough to fold out and then spread butter on the bread..
Sprinkle chopped garlic on the buttered bread and sprinkle the parsley..
Fold bread back into a roll. Wrap in aluminium foil (seal ends)..
Place in oven for 10 minutes..
Once the garlic bread is cooked, it should be crispy on the outside but soft inside. Break the roll into 2 and enjoy..
Tip: For a cheesy garlic bread, you can add cheese when doing step 3. Add on top of the butter and galic, then sprinkle parsley on top of cheese..
Sandwich bread was too wimpy, and baguette slices were too dainty. Melted butter soaked into the bread too rapidly an. This Homemade Garlic Bread recipe is the absolute BEST we have ever tried! The butter melts deep into the bread, creating the ultimate garlicky, carb filled side dish. This recipe is baked and then broiled, making it crispy on the outside and buttery soft on the inside.