Garlic bread italian subs. Rusty's Sub Cotto Salami, Italian Salami, Bologna, Provolone Cheese, American Cheese, Lettuce, Fresh Tomato and Italian Dressing. Canadian Style Bacon Sub Canadian Style Bacon, Provolone Cheese, Lettuce, Fresh Tomato and Italian Dressing. Preheat oven as directed by packaged garlic bread.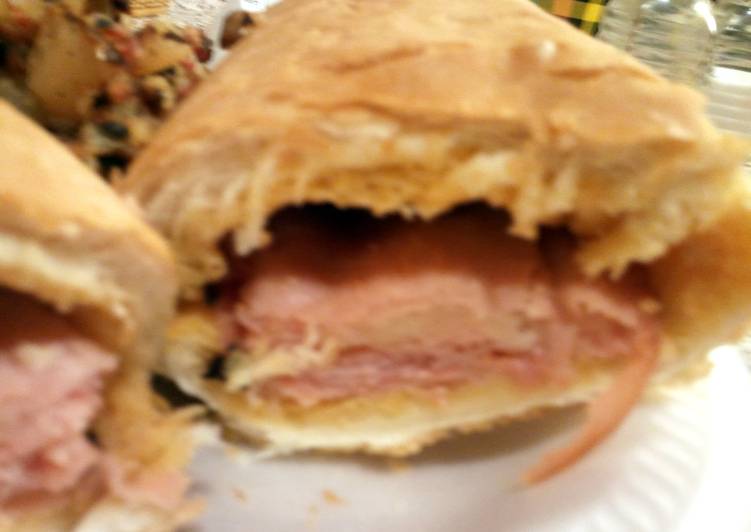 Melt butter over low heat in a small skillet. Try it out with the steak sandwich, meatball marinara sandwich, or spicy Italian sub. I use garlic bread sprinkle instead of garlic powder and also sprinkle a little italian seasoning or oregano on top and parmesan cheese. You can cook Garlic bread italian subs using 6 ingredients and 9 steps. Here is how you achieve it.
Ingredients of Garlic bread italian subs
You need 1 loaf of Frozen garlic bread.
You need 12 slice of Hard salami.
You need 1 packages of Pepperoni.
It's 16 slice of Thinly sliced ham.
You need 8 slice of Muenster cheese.
You need 2 tbsp of Italian dressing.
The parmesan takes on a wonderful flavor when it gets toasted. Not quite the same as french bread sourdough or italian bread but much much better than garlic toast made with sandwich bread. While the meatballs simmer, place a store bought loaf of garlic bread in the foil package, on your smoker. One of the reasons this meatball sub recipe is so amazing, is because of the bread.
Garlic bread italian subs instructions
Preheat oven as directed by packaged garlic bread.
Lay both halves of garlic bread face up on a cookie sheet.
Brush each half with italian dressing.
Place 4 slices of cheese on each half.
Place 3 slices of salami on each half.
Place 8 slices of ham on each half.
Add desired amount of pepperoni then repeat steps four and five.
Cook 8 to 10 minutes.
Close sandwich cut in. half and enjoy.
That garlic buttery goodness creates MAGIC. The Ultimate Meatball Marinara Sandwich features meatballs with our irresistible marinara sauce and a sprinkling of Parmesan cheese, piled high on warm Cheesy Garlic Bread. The Ultimate Spicy Italian features the perfect combination of pepperoni and Genoa salami layered on our gooey Cheesy Garlic Bread. Pour spaghetti sauce and meatballs over garlic bread, coating bread with sauce and distributing meatballs evenly. Spread mozzarella cheese over top in a layer, followed by a layer of Parmesan cheese.