Cheesy Garlic Beer Bread. This beer bread recipe is so EASY and pretty much no fail. No fancy instruction, no fancy ingredients and it's pretty easy to add any flavors you're craving. If you'd rather not have a cheesy garlic beer bread, then try adding maybe garlic and kalamata olives.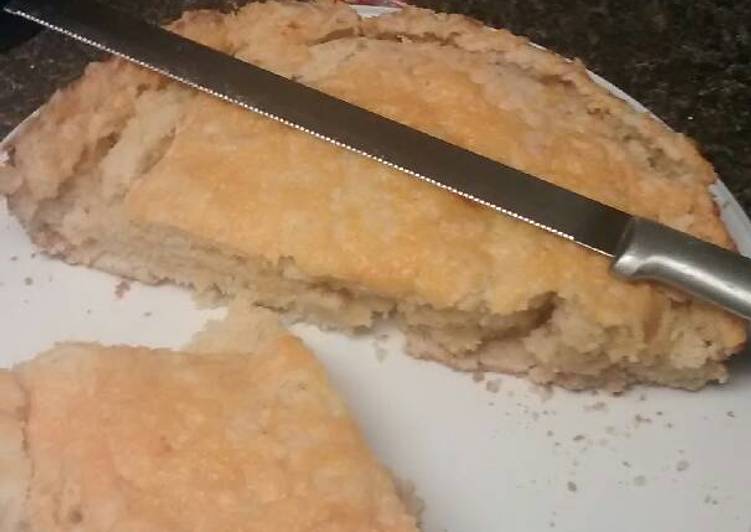 My family's favourite is this Cheesy Garlic Beer Bread. It's like cheese bread and garlic bread got married and had a baby! I had no idea Katherine moved to KC.. You can cook Cheesy Garlic Beer Bread using 7 ingredients and 3 steps. Here is how you cook that.
Ingredients of Cheesy Garlic Beer Bread
It's 4 1/2 cups of baking mix.
Prepare 1 3/4 cup of shredded Colby and Monterey Jack cheese.
You need 1 tbsp of Garlic powder.
Prepare 4 tsp of butter.
It's 4 tsp of sugar.
It's 1 tsp of parsley.
It's 2 cups (16 oz) of beer.
MUFFINS – if you're in a hurry, you can make garlic cheddar beer bread muffins! I use this exact same recipe to make Jalapeno Cheddar Beer Bread (add sliced jalapenos to the batter) and also Bacon Gruyere Beer Bread (switch out the cheddar for gruyere and add bacon). Pouring the garlic butter over the top of the batter results in a crunchy, buttery crust that is impossible to resist. How to make Cheddar Beer Bread Recipe – Cheesy Bread Recipe.
Cheesy Garlic Beer Bread instructions
Preheat oven to 375°. Put butter in a large cast iron skillet, (I use a cast iron Dutch oven) put skillet in oven.
Whisk together baking mix, parsley, garlic, sugar, and 1 1/2 cups of cheese.
Stir in beer until combined, pour over melted butter in skillet, sprinkle with remaining cheese, and bake for 30 min, or until golden brown on top..
To begin making the Cheddar Beer Bread Recipe, grease a loaf pan with butter and dust it with flour and keep it ready. Heat butter in a pan on medium flame, add the garlic and fry until it turns light brown. This will take a couple of minutes. Minced Garlic – You can use fresh minced garlic, but I always use minced garlic purchased in the produce section of the grocery store.; Butter – I always use salted butter in all of my bread. Every type of beer you use leaves its' own different taste, from wheat beers to light pilsners.