Marble Cake.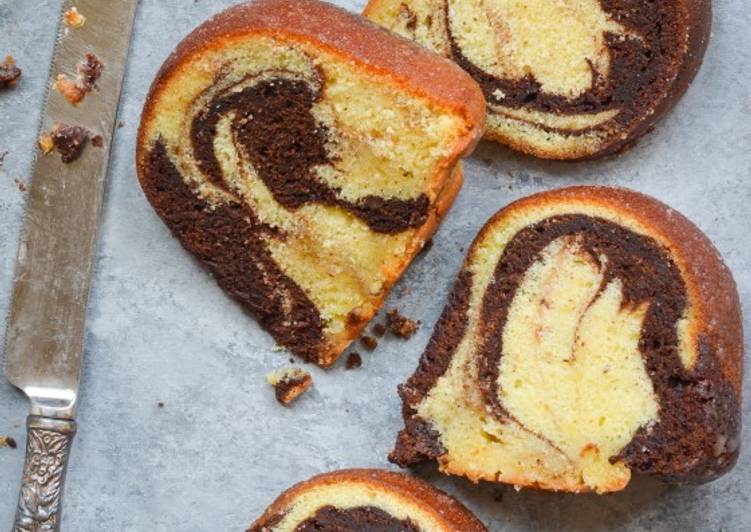 You can cook Marble Cake using 12 ingredients and 7 steps. This is you can make that.
Ingredients of Marble Cake
You need 40 g of cocoa powder.
You need 400 g of sugar; split in two.
It's 120 ml of water.
It's 115 g of culinary chocolate; medium pieces.
It's 240 ml of buttermilk.
Prepare 4 of eggs.
Prepare 2 tsp of vanilla essence.
You need 390 g of all purpose flour.
It's 1 tsp of baking powder.
It's 1 tsp of baking soda.
Prepare 1 tsp of salt.
Prepare 225 g of butter; softened.
Marble Cake instructions
Preheat the oven to 160°c and set an oven rack in the middle position. Spray a 10-in (12-cup) Bundt pan generously with nonstick cooking spray with flour.
In a small saucepan, combine the cocoa powder, 200g of the sugar, and the water. Bring to a simmer over high heat, whisking until smooth. Off the heat, immediately add the chocolate; whisk until the chocolate is melted and the mixture is smooth. Set aside.
In a medium bowl, whisk together the buttermilk, eggs, and vanilla. Set aside. (Note that the mixture will start to look curdled as it sits; that's okay.).
In the bowl of an electric mixer fitted with the paddle attachment or beaters, combine the flour, baking powder, baking soda, salt, and remaining of sugar. Beat on low speed for 30 seconds to combine. Add the softened butter and half of the buttermilk mixture and mix on low speed until moistened but still a little crumbly, about 1 minute. With the mixer running on low, gradually add the remaining buttermilk mixture until incorporated, then increase the speed to medium and mix for three mi.
Transfer about 1/3 of the batter to a medium bowl. Add the chocolate mixture and whisk until smooth..
Spoon half of the remaining vanilla batter into the prepared Bundt pan. Pour the chocolate batter over top. Finish by spooning the remaining vanilla batter over the chocolate (don't worry about covering the chocolate layer completely). Using a butter knife, swirl the batters together with a figure-eight motion, going three times around the pan. It may not look like the batters are swirled; that's okay. It's important not to over-swirl..
Bake for 60 to 70 minutes, or until a cake tester comes out clean..