Nutella Oreo Cheesecake.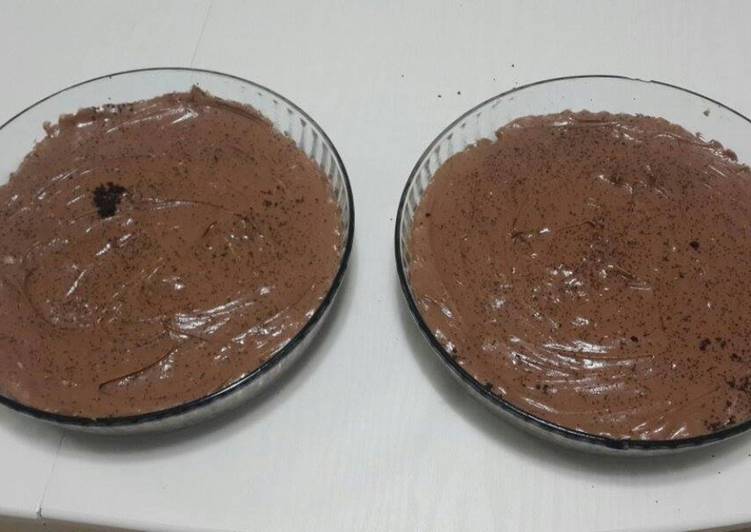 You can have Nutella Oreo Cheesecake using 6 ingredients and 3 steps. Here is how you cook it.
Ingredients of Nutella Oreo Cheesecake
You need 160 grams of of butter.
It's 4 1/2 of boxes of Oreos (16 x 4.5  72 Oreos).
You need 1 of big jar of nutella or 1 & ¾ standard jars of nutella.
It's 500 grams of of mascarpone (250 grams x 2).
It's 240 grams of of cream cheese – I use president fraixdoux.
It's 4 tbsp of whipping cream.
Nutella Oreo Cheesecake instructions
Crust Base Layer: – Grind the oreos in a food processor and place in a large bowl – Put aside 3-4 tablespoons for sprinkling and decorating on the top – Melt the butter – Slowly add melted butter to oreos and mix until all cookie crumbles are covered with butter – Place the crust mix in the serving dishes and gently press down the crumbs until they are an even layer – Refrigerate the crust while preparing the filling.
Filling: – Place the mascarpone & cream cheese in a bowl of an electric mixer – Mix on medium speed until soft occasionally scraping down the sides of the bowl – Add the nutella and mix again until ingredients are well blended together – Prepare small amount of whipping cream – Fold in whipping cream by hand with a spoon 1-2 spoons at a time – Pour the cheese mixture over the crust and even it out – Using a sieve, sift the oreo crumbs that you set aside to sprinkle & decorate the top of the cake – Refrigerate for 1-2 hours and serve.
N.B. The above ingredients make for 2 standard round dishes. If you want to make only one just cut the Recipe by half..