Cream of Pumpkin soup. Use any type of eating pumpkin you want OR butternut squash A thick and creamy pumpkin soup that's full of flavour. Sweet pumpkin flavour, savouriness from the Recipe VIDEO above. This creamy pumpkin soup is even better if it's made a day ahead of time.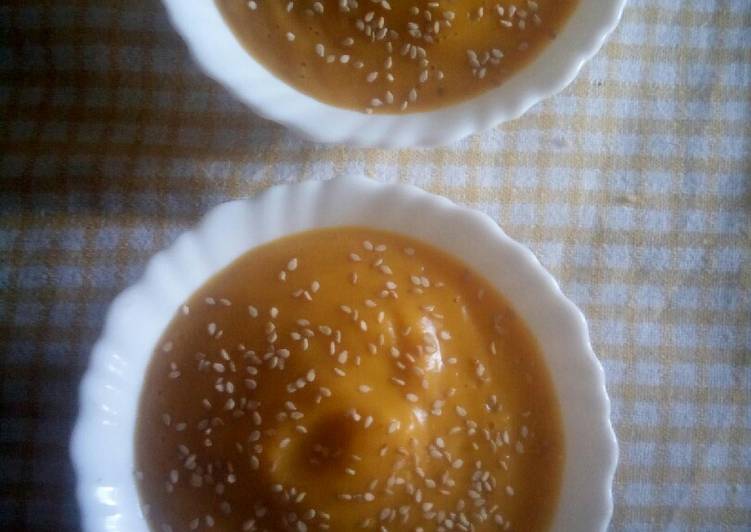 IF you like the taste of coconut cream in soups. This rich and delicious soup is perfect for any autumn or holiday table. It skips the messy process of cooking fresh pumpkins, and uses pure canned pumpkin instead. You can cook Cream of Pumpkin soup using 11 ingredients and 6 steps. Here is how you achieve it.
Ingredients of Cream of Pumpkin soup
Prepare 200 g of pumpkin, peeled and chopped into large pieces.
Prepare of water (for boil;ing pumpkins).
It's of salt.
You need 1/2 of onion, finely chopped.
It's 1 clove of garlic, finely chopped.
You need 1 tbsp of veg oil.
You need 1 of small carrots, roughly chopped.
Prepare 1 pinch of rosemarty leaves.
It's 1/2 cup of water (for blending).
You need 100 ml of fresh milk.
Prepare of roasted sesame seeds.
Add all the other ingredients, except the cream. Bring to a simmer and cook, stirring occasionally, until the vegetables are very soft. Cream: Pumpkin soup is so good on its own, it does't really need 'help' with any additional ingredients. However, for an incredible depth of flavour, adding a swirl of cream adds extra richness to the soup.
Cream of Pumpkin soup instructions
Boil the pumpkin til tender, strain and let cool.
Saute the onions then add the garlic. Add in the carrots and rosemary and fry them until the carrots are soft. add in water and reduce to simmer.
Add in the pumpkin pieces into the saucepan containing the simmering liquid and let simmer for further 5 minutes.
Add in the milk and give a good mix.
Using a blender, blend everything in the saucepan to smooth..
Garnish with sesame seeds and serve hot.
I love gardening and have a big pumpkin patch. A few years ago when our harvest was very plentiful, I experimented and came up with this Meanwhile, combine the sour cream and parsley. Spoon soup into bowls; top each with a dollop of sour cream and sprinkle with bacon. Saute the pumpkin, onion, garlic and ginger in hot butter, then pour in the vegetable broth and cream. Garnish with the chopped walnuts and chili threads and serve.