Olive Oil Chocolate Cupcakes. The Olive Oil Chocolate Cupcakes come out fluffy and moist. If you follow my stories in Instagram, you would know that our little fella Avyan loves to help in the kitchen and bake with me. I used almond milk in the batter, but if there are no dairy allergies, then feel free to swap in whole cow's milk.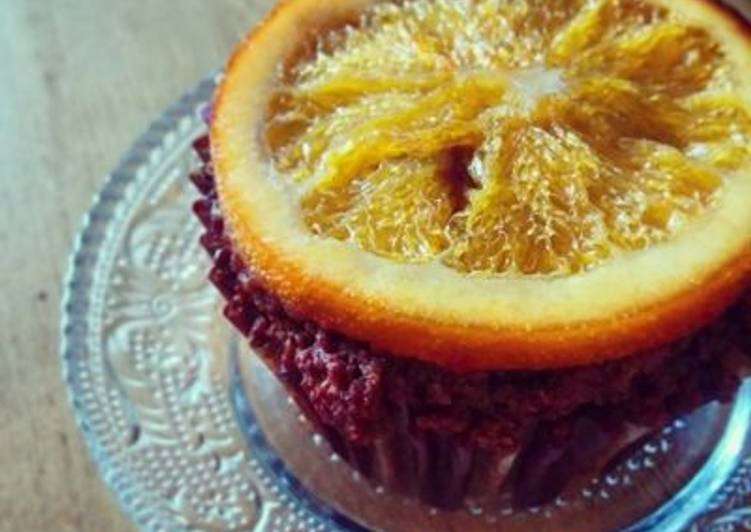 This is a version of my mother's favorite chocolate cake recipe. These can be made quickly with ingredients in your pantry. The addition of the olive oil makes these gems moist with dense chocolate flavor. You can cook Olive Oil Chocolate Cupcakes using 10 ingredients and 4 steps. Here is how you achieve that.
Ingredients of Olive Oil Chocolate Cupcakes
Prepare 150 g of chocolate bar.
Prepare 80 ml of olive oil.
Prepare 2 of Eggs.
Prepare 60 g of Sugar.
Prepare 1 tablespoon of rum.
Prepare 1 tablespoon of orange jam.
Prepare 60 g of Flour.
It's 1 tablespoon of cocoa powder.
It's 1 teaspoon of bakig powder.
It's 6 of slices orange.
Chocolate Olive Oil and Blood Orange Cupcakes. Cupcake Tips & Tools, plus a GIVEAWAY! Sweet Potato Cupcakes with Maple Spice Buttercream. Salted Chocolate Olive Oil Cupcakes are the dessert representation of one of my favorite childhood books, Matilda by Roald Dahl.
Olive Oil Chocolate Cupcakes step by step
Preheat the oven at 180°C/350°F. Add the olive oil and melted chocolate into a bowl, and mix well..
Add the beaten eggs in batches and mix well each time. Add the sugar, rum and jam and stir in. Add the flour, cocoa and baking powders and mix gently with a spatula until it no longer has a powdery texture..
Line a muffin pan with 6 paper liners. Fill each muffin cup 3/4 of the way and put a sliced orange on the top. Then give a gentle shake to remove any air bubbles. Bake for about 20 minutes or until the top is golden brown..
note: I use 50g of 70% dark chocolate and 100g of milk chocolate..
In the book (and movie), Matilda, has the ability to move objects with her mind, a power I sorely envied as a child. Honestly, I still envy it, particularly when I've just settled down with a warm Blueberry Banana Crumb Bar, only to realize that (*gasp*) I forgot. I decorated my cupcakes simply, reinforcing the already triple dose of chocolate with even more chocolate, including a border of chocolate sprinkles (hold the cupcake at an angle, and use a small spoon to gently adhere the sprinkles to the base of the piped frosting) as well as some chocolate twigs I picked up recently and have been waiting for an occasion to use! In a large bowl, sift together flour, baking powder, baking soda, and salt. Add sugar and brown sugar and mix.