Oreo Cupcakes With Cream cheese Icing. I love using my Oreo frosting on my chocolate cupcakes to make Oreo cupcakes, but the frosting is also amazing on vanilla cupcakes or vanilla cake. This frosting would also be incredible on a hi-hat cupcake or as a topping on my cakey brownies. Best Tips for Making Oreo Frosting.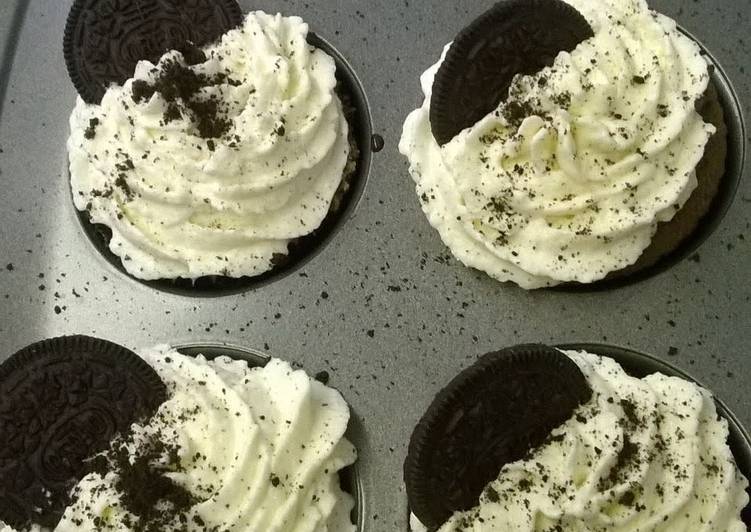 The Story: When I was a kid, we didn't have big name brand sweets in the house. But when I went to a friend's house, there were two things I always looked forward to. For an extra surprise, drop an oreo in the bottom of the cupcake before filling the tin and baking. You can have Oreo Cupcakes With Cream cheese Icing using 17 ingredients and 7 steps. Here is how you achieve it.
Ingredients of Oreo Cupcakes With Cream cheese Icing
Prepare of Devil's food cake.
You need 6 oz of Cake flour.
You need 1 oz of Coco.
It's 1/2 tsp of Salt.
Prepare 1 tbsp of Baking powder.
It's 1/2 tsp of Baking soda.
Prepare 3 1/2 oz of Room temperature unsalted butter and 8 oz sugar.
You need 5 oz of Milk.
You need 3 each of Small egg.
Prepare of Simple syrup.
You need 1/2 cup of Sugar.
Prepare 1/2 cup of Water.
It's of Cream cheese icing.
It's 12 oz of Room temperature Cream cheese.
You need 5 oz of Room temperature Butter.
You need 3 oz of 10 x powder sugar.
It's 1 tsp of Vanilla extract or cookies and cream extract.
I am perfectly happy with a generous dollop of this frosting. Crush Oreos in a blender to get Oreo crumbs. Whisk the butter, cream cheese and icing sugar until light and fluffy. Then, gently fold in the Oreo Crumbs.
Oreo Cupcakes With Cream cheese Icing instructions
In a mixing bowl cream the cake flour, coco,salt,baking soda,baking powder , and butter for 3 minutes.
Then add the sugar and vanilla extract.
Mix the eggs and milk then add it in to the mixture gradually.
Spray the cupcake pan with oil pan spray then place the cupcakes liners and start filling the cupcakes liner and bake them until the. Center of the cupcakes are firm on 350°F.
The key for a moist cupcake is simply syrup which is equal parts of sugar and water so mix the sugar and water in a cooking pan and bring it to a boil.
After the cupcakes are cooled down grab a pastry brush or a spoon and water the cupcakes with the simple syrup.
For the cream cheese icing : in a mixing bowl cream the cream cheese and butter until it is light and fluffy for about 5 min then add the powder sugar and vanilla or cookies and cream extract then give it a mix for about 5 min and the icing is ready to. Pip on the cupcakes and you could place an Oreo cookie on top of the icing.
When the cakes have cooled, pipe the icing onto the cakes and use any left over Oreos to decorate. Meanwhile, place cream cheese and butter into the bowl of a stand mixer and cream together until smooth. Gently stir Oreos into the frosting, careful to not over stir. Fill the cupcake liner with the batter. Make sure there's a cookie there already!