Mike's Crazy EZ Cheese Danishes. These danishes start with crescent rolls but leave room for creativity and fun. PagesOtherBrandKitchen/CookingIncredible RecipesVideosEASY CRESCENT CHEESE DANISHES.wow Simple to make, so good. This Cheese Danish Recipe will blow your socks off!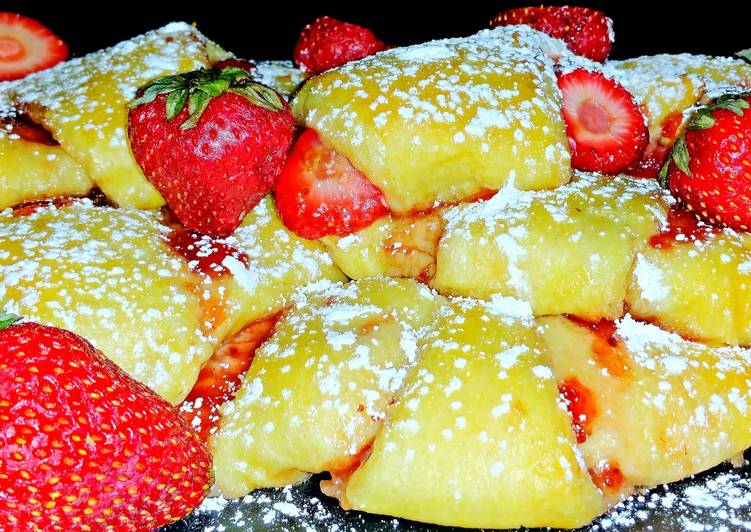 So, I'm a HUGE fan of making delicious recipes that are EASY. This is one of those recipes! It never ceases to amaze me all the things that you can do with a can of crescent rolls!! You can have Mike's Crazy EZ Cheese Danishes using 11 ingredients and 2 steps. Here is how you achieve it.
Ingredients of Mike's Crazy EZ Cheese Danishes
You need of EZ Strawberry Cheese Danishes.
Prepare 1 can of 8 oz Pillsbury Buttery Croissants.
Prepare 1 packages of 8 oz Philadelphia Cream Cheese [room temp].
Prepare of Quality Strawberry Preserves.
You need of Sliced Or Chopped Fresh Strawberries.
It's of Essentials & Options.
You need 1 of Tinfoil + Cookie Sheet.
You need of Pam Butter Spray [lightly spray foil].
Prepare of Powdered Sugar [optional].
It's of Fresh Strawberry Garnishments [sliced or whole – optional].
You need of Cool Whip.
Who isn't a cheese danish LOVER?? Everyone I know just adores them! Cheese Danishes From Scratch: Good day to all of you! Good day to all of you!
Mike's Crazy EZ Cheese Danishes step by step
Here's all you'll need all you'll need..
° Lightly smear cream cheese and preserves on unbaked croissants. Add chopped strawberries and roll. ° Lightly spray tinfoil with butter flavored Pam Spray. Bake at °375 for 10 to 12 minutes until croissants are fluffy and golden brown. Or, as per manufactures directions. ° Once baked, allow danishes to stand for 5 minutes to slightly firm up but, serve warm & immediately. Garnish with fresh strawberries, powdered sugar or, even Cool Whip. ° Serve with a fork as these cream cheese strawberry danishes will be a tad on the moist side..
I would like to share with you how to make cheese danishes from scratch. It is not the easiest recipe, but it is not that hard and I think with a little patience anyone could do it. This recipe for Cheese Danish starts with an already-made crescent roll dough. You get all that flakiness without the extra effort. It's made with store-bought crescent roll dough, cream cheese, and if you desire, store-bought berry jam.