Apple and Sweet Potato Towers.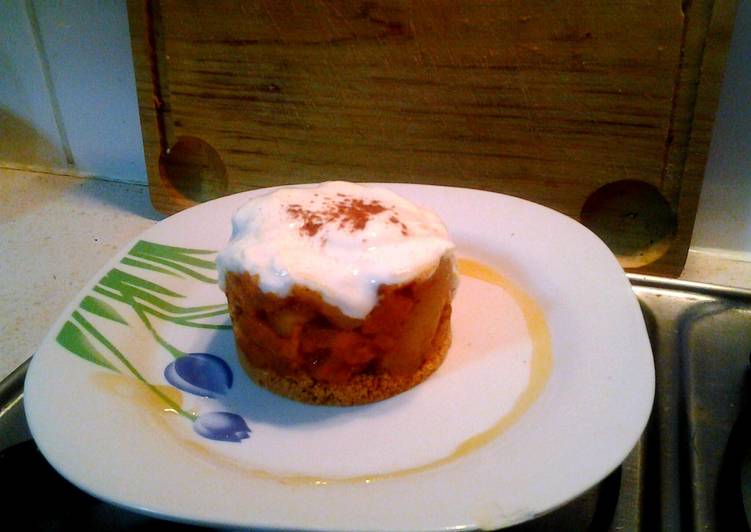 You can have Apple and Sweet Potato Towers using 10 ingredients and 14 steps. Here is how you cook it.
Ingredients of Apple and Sweet Potato Towers
It's 2 medium of sweet potatoes.
You need 2 medium of apples (Golden Delicious).
It's 1/2 tsp of nutmeg.
It's 1/2 tsp of cinnamon.
Prepare 3 tbsp of brown sugar.
Prepare 1 tbsp of butter.
It's 1/2 tsp of corn flour.
Prepare 7 of plain digestive biscuits.
It's 1 of zest of 1 lemon.
You need 300 grams of unsweetened Greek yogurt.
Apple and Sweet Potato Towers instructions
Wash, peel and chop sweet potatoes into 1 inch chunks.
Place into a mixing bowl and add 2 tablespoons of water.
Microwave on high for roughly 4 minutes.
Peel and core apples, chop into 1 inch chunks.
combine apples, sugar, butter, cinnamon and nutmeg in a mixing bowl making sure to cover all of the apples.
Tip apples into bowl with sweet potatoes and mix together.
Microwave for 15 minutes on high (stir every 5 minutes) until apples and sweet potatoes are soft but not falling apart.
Mix 1/2 teaspoon cornflour and 1 teaspoon water in a cup and stir in (this will help thicken the water in the bottom of he bowl).
Microwave once more for 2 minutes on high, then leave to cool down slightly..
Crush biscuits into fine crumbs.
In a bowl mix Greek yogurt and lemon zest together.
Using a 3 inch ring (best to use the plate your serving on) – first biscuit as a base then sweet potato & apple and finally top with the yogurt & lemon zest. Pack the tower tightly so when you remove the ring it wont collapse..
Sprinkle a little cinnamon on top.
Serve ASAP as the yogurt does tend to begin to run down the side as it warms up..