Spinach Cheesy Garlic Bread.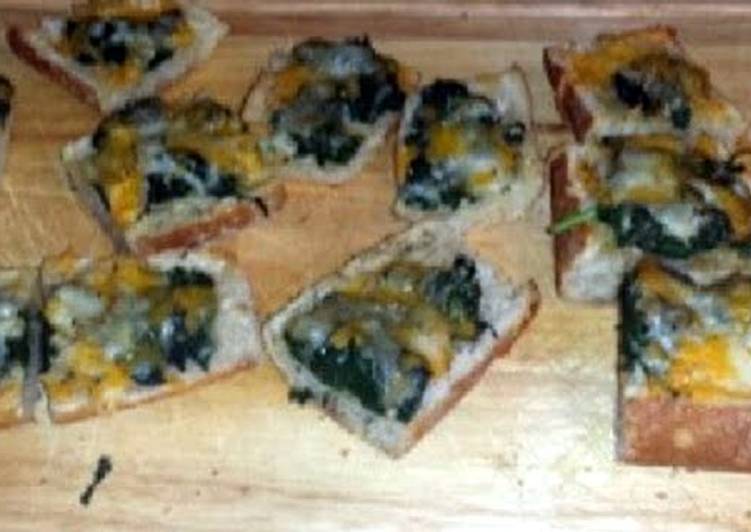 You can cook Spinach Cheesy Garlic Bread using 6 ingredients and 13 steps. Here is how you achieve that.
Ingredients of Spinach Cheesy Garlic Bread
It's 1 loaf of Baguette.
You need 2 packages of Spinach.
It's 4 cup of Mixed Cheese.
You need 2 tsp of Garlic.
Prepare 1 cup of Butter.
It's 2 clove of Fresh Garlic.
Spinach Cheesy Garlic Bread step by step
Preheat Oven to 350°F.
Take Baguette Loaf and Slice straight down the middle that it makes to halves.
Chop Garlic Clove into fine pieces.
In a sauce pan put on medium heat and add a half cup of butter with chopped Garlic Cloves.
Let shimmer for about 3 mins then place to cool for about 2 mins..
Spread butter mixture evenly on both side of the bread halves.
In a Sautee pan cook 2 packages on spinach may seem like a lot but spinach shrinks.
Evenly distribute spinach on both halves of the Baguette.
Spread a Layer of Shredded Cheese.
Repeat steps 8 and 9 again.
Finally sprinkle Garlic powder on top evenly and place in oven.
Let cook for 10 mins.
As Halves are Cooled Down Slice into smaller sections to serves to guest.