Kale and Portobello Lasagna.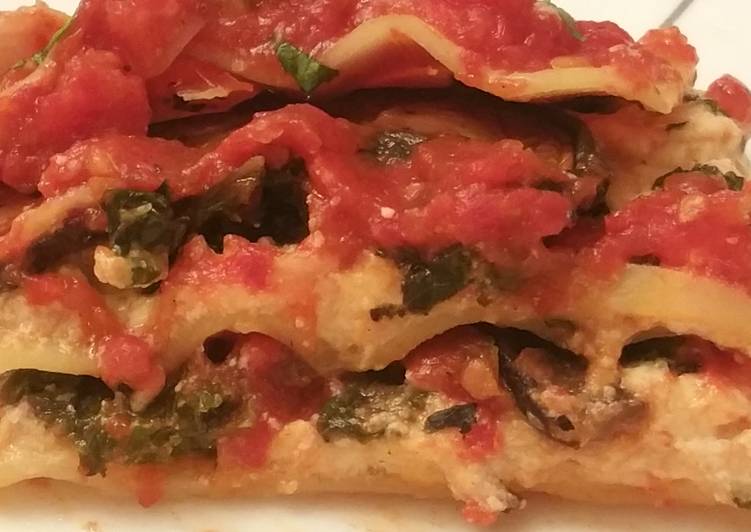 You can have Kale and Portobello Lasagna using 16 ingredients and 6 steps. Here is how you cook that.
Ingredients of Kale and Portobello Lasagna
You need 1 cup of coarsely chopped drained jarred roasted red peppers.
Prepare 1/2 tsp of dried oregeno.
Prepare 1 can of (28 oz) whole plum tomatoes.
Prepare 1/4 of salt.
Prepare 1/4 of pepper.
It's 1/4 tsp of sugar.
It's 2 cup of skim mozzarella cheese.
You need 2 large of egg whites.
You need 15 oz of skim ricotta cheese.
Prepare 1 tbsp of olive oil.
It's 4 of Portobello mushrooms, stems discarded, caps sliced 1/4 inch thick.
It's 1 small of bunch of kale (or spinach), stems removed and leaves coarsely chopped.
It's 1/4 tsp of red pepper flakes.
You need 2 clove of garlic thinly sliced.
Prepare 9 of sheets no-boil lasagna noodles.
Prepare 2 tbsp of chopped fresh parsley.
Kale and Portobello Lasagna step by step
Preheat the oven to 350 . Puree the peppers, oregano, tomatoes, salt, pepper and sugar in a food processor or blender until smooth and set aside..
Mix 1 1/2 cups of the mozzarella cheese with the egg whites and ricotta cheese in a medium bowl..
Heat the oil in a large nonstick skillet set over medium-high heat. Add the sliced mushrooms and cook, stirring, until they have released their liquid and are tender (about 10 minutes). Stir in the kale, in batches, and as it wilts add the pepper flakes, garlic and 1/4 teaspoon salt and continue to cook until the kale is wilted and bright green (about 5 minutes).
Coat 9-by-13-inch baking dish with nonstick cooking spray. Spread 3/4 cup of the sauce in the bottom of the dish. Top with 3 noodles, 1/2 of the ricotta mixture and 1/2 of the mushroom mixture. Repeat layers with sauce, noodles and remaining ricotta and mushrooms. Top with remaining noodles and sauce..
Cover with aluminum foil and bake until the noodles are tender and the sauce is bubbling around the edges of the pan, about 50 minutes..
Uncover, sprinkle with the remaining 1/2 cup grated mozzarella and continue to bake until melted, about 5 minutes. Let stand 15 minutes, sprinkle with parsley and serve..