Pastry cheese straws. Cheese straws are made with puff pastry, which is cut into strips and then twisted into "straws." This pastry is made of hundreds upon hundreds of thin layers of dough and butter. In the heat of the oven, these layers puff dramatically and become incredibly crispy. These cheese straws are the ultimate snack.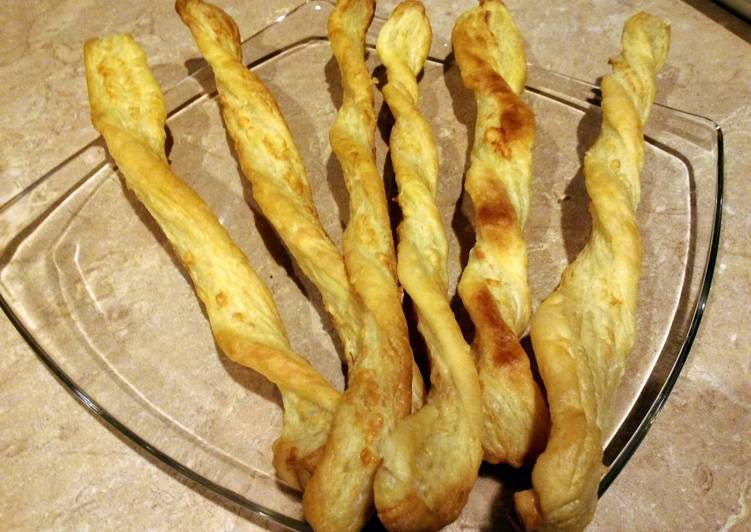 I am a huge cheese lover—that must be the Danish in me. As an Amazon Associate, I earn from qualifying purchases. We love this puff pastry cheese straws recipe because it's stylish and practical: it looks like slightly chic, festive party food while actually working hard to keep guests' hunger at bay while you finish preparing dinner. You can have Pastry cheese straws using 5 ingredients and 8 steps. Here is how you achieve that.
Ingredients of Pastry cheese straws
It's of straws.
It's 1/2 cup of Gruyere cheese, may substitute.
You need 1/2 tsp of garlic powder.
You need 2 of sheets of thawed prepared puff pastry.
It's 1 of egg, beaten.
At a cocktail party, it's easy finger food that's substantial enough to take the edge off a strong cocktail. Whenever possible, use all-butter puff pastry, such as Trader Joe's or Dufour, for the best flavor and texture. For even thawing, let it sit in the refrigerator overnight, rather than on the counter, which can cause the pastry to become sticky and difficult to work with. This recipe is adapted from Martha Stewart's Appetizers.
Pastry cheese straws instructions
On lightly floured surface, roll one sheet of pastry out to about 14" x 12"..
Brush surface with beaten egg..
Roll out 2nd pastry to same size..
Sprinkle cheese on top of pastry with egg mixture leaving 1/8" of edges clear..
Sprinkle garlic powder lightly over cheese. Top with second pastry sheet..
Roll lightly to press sheets together. Then cut pastry with the back of a knife or pizza wheel ,cross length into 24 1/2 " strips..
Twist each strip as you then place on a parchment lined baking tray..
Bake in a preheated 400°F oven for 15-25 minutes. Remove when golden brown..
Sprinkle half the dough evenly with a layer of the cheese. Fold the dough over the cheese. Repeat with another layer of cheese and rolling the dough until all the cheese is used up. Spread puff pastry on a lightly floured working surface. Brush with egg yolk and sprinkle with cheese and pepper or other topping of your choice.