Biscuit Chicken Pot Pie.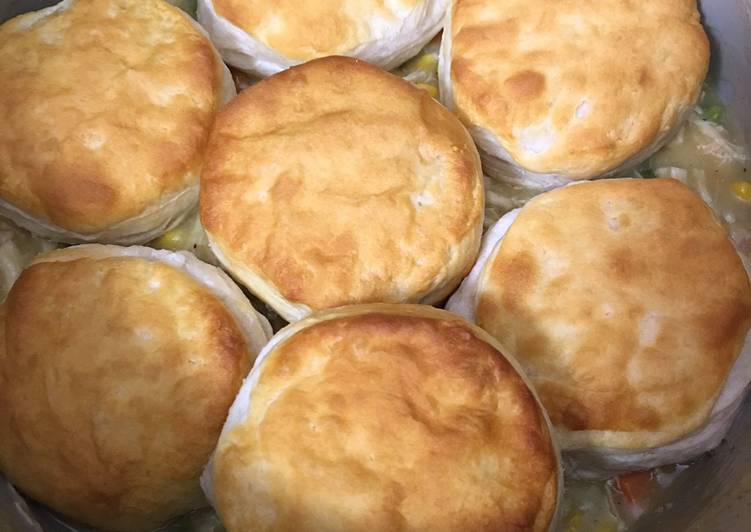 You can have Biscuit Chicken Pot Pie using 8 ingredients and 4 steps. This is how you make it.
Ingredients of Biscuit Chicken Pot Pie
It's 1 can of 8 biscuits.
It's 2 tablespoons of butter.
You need 1 of small package frozen veggie mix: carrots, peas, corn and green beans.
Prepare 2 of chicken breasts cooked and shredded.
It's 1-2 cups of chicken broth adapt to your preference.
Prepare 1 can of Cream of Chicken Soup regular size.
Prepare 1 can of cream of celery.
You need to taste of salt and pepper.
Biscuit Chicken Pot Pie step by step
Preheat the oven to 400 degrees. In a large sauce pan heat the butter on medium heat. Add the veggie mixture to the pan and saute until the veggies are tender, about 5-7 minutes. Season with salt and pepper to taste..
Whisk in the chicken broth and the Cream of Chicken soup and cream of celery.Let the sauce simmer for 1 minute to thicken. Season with more salt and pepper to taste. Turn off the heat and add the cooked shredded chicken to the mixture, stirring until the filling is well-combined. If the filling is too thick, stir in extra chicken broth..
On a parchment lined sheet pan bake the biscuits for half of the time listed on the can for a "pre-bake". Take them out of the oven. Pour the filling into a buttered 13×9-inch baking dish. Top the filling with the 8 biscuits, serving. Enjoy! Or can make bowls up really no need to put in the baking dish it's just adds to dirty dishes..
Notes- start the biscuits the same time you make the filling big time saver, they should be done around the same time. I made everything in the ninja foodie but the biscuits, this can be done in the instant pot..