Pepperoni Pizza Sticks.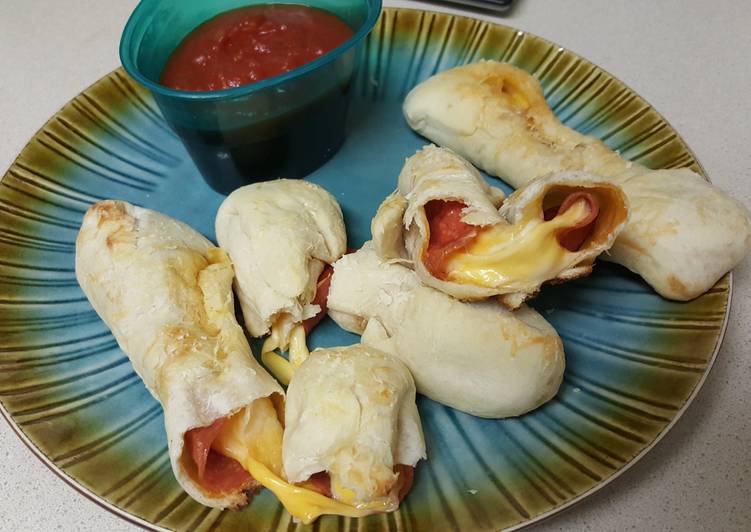 You can cook Pepperoni Pizza Sticks using 9 ingredients and 9 steps. Here is how you cook it.
Ingredients of Pepperoni Pizza Sticks
It's 2 tbsp of olive oil, extra virgin.
You need 1 tbsp of all-purpose flour.
You need 1 of Pillsbury classic pizza crust.
It's 8 piece of String cheese (I use mozzarella cheddar ones from sargento).
Prepare 32 piece of pepperoni.
You need 4 tsp of grated parmesan cheese.
You need 1 of 15oz can pizza sauce.
You need 1 of rolling pin.
You need 1 of Pizza cutter.
Pepperoni Pizza Sticks step by step
Preheat oven to 425°F.
Brush a large cookie sheet with 1 tablespoon olive oil.
Sprinkle flour over work surface then unroll pizza crust dough and use rolling pin to roll dough out some.
Use pizza cutter to cut down the middle of the dough and across 3 times making a total of 4 strips.
Put 4 pieces of pepperoni on each strip and a stick of string cheese.
Roll and shape each strip into logs making sure the cheese and pepperoni are sealed inside.
Place on cookie sheet and brush with remaining tablespoon of olive oil and sprinkle parmesan cheese on top.
Bake 8-10 mins.
Eat and enjoy :).