Cold Veggie Pizza.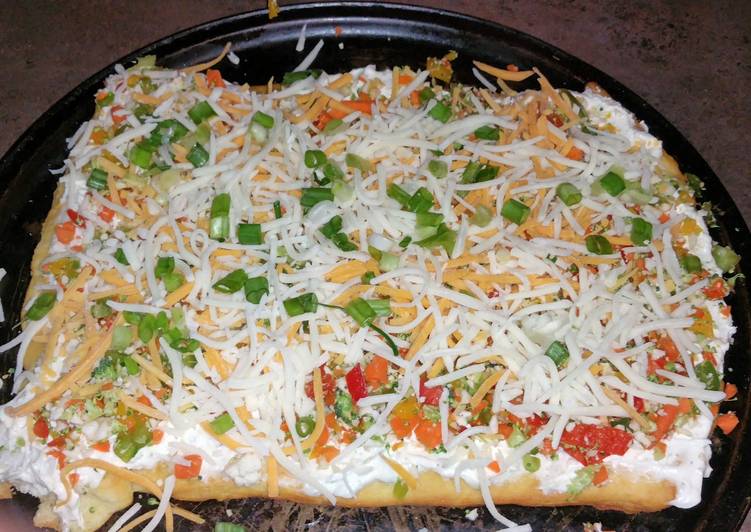 You can have Cold Veggie Pizza using 14 ingredients and 10 steps. Here is how you cook it.
Ingredients of Cold Veggie Pizza
You need 1 can of crescent rolls.
You need of broccoli.
Prepare of cauliflower.
It's 1 small of green pepper.
You need 1 small of red pepper.
Prepare 1 of yellow pepper.
Prepare 8 oz of cream cheese.
Prepare 1 tsp of garlic powder.
You need 1 cup of mayonnaise.
Prepare 1 packages of dry ranch mix.
It's 1 tsp of dill weed.
You need of shredded mozzarella cheese.
You need of shredded cheddar cheese.
You need 1 stick of green onions(to taste).
Cold Veggie Pizza step by step
Preheat oven to 400°F. While oven is preheating, unroll crescent rolls and lay flat on a baking sheet. Place in the oven once heated..
Bake until golden brown. Take out and let it cool down..
While bread is cooking, chop broccoli, cauliflower, green peppers, red peppers, and yellow peppers into small pieces. Once chopped mix all ingredients together and set aside..
Soften cream cheese in bowl. (Microwave for about 30-45 seconds.).
Add mayonnaise, ranch packet, dry dill weed and garlic powder to cream cheese and mix it all together..
Once bread is cool. Spread cream cheese mixture evenly over the top..
Sprinkle veggie mixture on top. And then add the shredded cheese..
Lastly sprinkle green onion over pizza for color..
Cover pizza and place in the fridge for at least 1 hour to set..
Once set, use pizza cutter to slice in squares and Enjoy!.