BLT Pizza. BLT Pizza Recipe photo by Taste of Home. In a small bowl, combine the Miracle Whip, basil, garlic powder and onion powder; spread over crust. Stretch pizza dough out over a pizza stone, pan, or cookie sheet.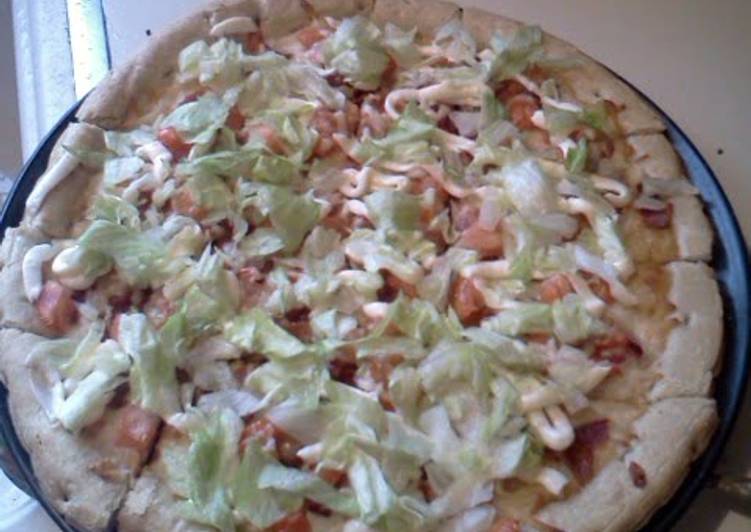 The BLT pizza was made famous by a large West Coast brand and has become a popular addition to creative pizzerias across the country. The ingredients, while seemingly odd at first. Got this for our Friday pizza night when I didn't have pizza sauce and wanted to make something different. You can have BLT Pizza using 6 ingredients and 9 steps. Here is how you achieve it.
Ingredients of BLT Pizza
Prepare 1 of 12 inch pizza crust.
It's 1 cup of Chopped bacon(6-7 COOKED pieces).
It's 2 1/4 cup of Shredded Mozzarella.
It's 3/4 cup of Chopped Tomatoes.
You need 1 cup of Shredded/chopped lettuce.
Prepare 1/4 of Mayonnaise.
Carefully remove pizza stone from oven. Crumbled real bacon, house made pizza sauce, house blend mozzarella and sharp cheddar topped with fresh diced tomatoes and lettuce. Bacon, lettuce and tomato on a pizza? We ditched the tomato sauce in favour of a mayo and sour cream base for our BLT Pizza.
BLT Pizza instructions
Preheat oven to 350°.
Cook and chop bacon.
Place pizza crust on a pan.
Spread 2 cups of cheese over crust.
Sprinkle bacon and tomatoes over cheese.
Add remaining cheese.
Bake for 20-25 minutes or until golden brown.
Top with mayonnaise then lettuce.
I put the mayo in a sandwich bag and cut a tiny piece of the corner off to squeeze the mayo over the pizza…ranch instead of mayo is also quite yummy!!!.
Delicious homemade pizza featuring the classic flavors of the BLT. Creno's Pizza Company is a longtime old-school pizzeria chain. We do pizza delivery and pizza catering in Pataskala, Reynoldsburg, Buckeye Lake and more! All of your favorite BLT ingredients, plus marinara sauce and mozzarella cheese, top an English muffin in this BLTs don't have to be limited to just sandwiches — turn this favorite lunch recipe into pizza! Includes romaine lettuce, grape tomatoes, chives, base, bacon, pepper, salt.