Elisa's Biscuit Pizza. Top flaky Pillsbury™ biscuits with pizza sauce, pepperoni and cheese, then bake until golden brown. Serve with your favorite dipping sauce (ranch dressing, barbecue sauce, marinara sauce—the list. Made with just a few ingredients, this biscuit pizza dough comes together in mere minutes.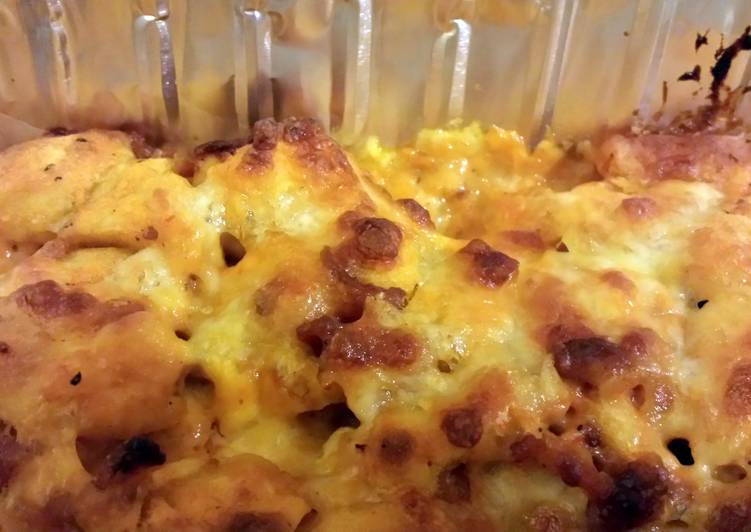 This one dish meal is a great quick way to cure your craving for pizza! It's made with refrigerated biscuits and delicious toppings. Try this easy Biscuit Pizza Recipe on your next pizza night. You can cook Elisa's Biscuit Pizza using 4 ingredients and 9 steps. Here is how you cook it.
Ingredients of Elisa's Biscuit Pizza
You need 2 of biscuits (can use canned biscuits).
You need 1/4 cup of any meat you like (I used bacon this time).
You need 2 tsp of any pizza or pasta sauce.
It's 1/4 cup of shredded cheese (any you prefer).
We cheap by using canned biscuits for Our kids love biscuit pizzas! This biscuit pizza recipe is a winner all around, because the kids can. This recipe provides all the flavor of traditional pizza in a convenient casserole. It is packed with ground beef, pepperoni and veggies, so it is perfect for a potluck!
Elisa's Biscuit Pizza step by step
Preheat oven to 250°.
Cover your pan with cooking spray.
In this case, I cooked the bacon and crushed it..
Cut the biscuits in pieces, 8-9 pieces.
Put the pieces in a bowl and add the salsa, 1/4 cheese and meat..
Mix very well and put it on the pan..
Sprinkle the rest of the cheese on top..
Bake for 10-15 minutes..
Serve and enjoy!.
Biscuit Pizza: I love old fashion yeast bread pizza, but sometimes I am just in a hurry and do not even want to This pizza is great for using leftovers. Add your favorite pizza toppings to the layers. Try cooked sausage crumbles, green bell pepper, onion, olives or cooked chicken. Great recipe for Pillsbury biscuit pizza. simple,easy, and fast. yum! A slice of pizza is a meal that many people look forward to on a regular basis, but eating the same Instead of your usual pizza crust, you can try biscuit dough for a flaky texture and alternate flavor.