3 Cheese Pesto Chicken Pizza. We love the bold flavor of this pizza that's a bit different from the traditional. The pesto, cheese and olive topping makes a delicious statement. I used an entire package and another handful of cheese and added torn fresh basil leaves as well on the top.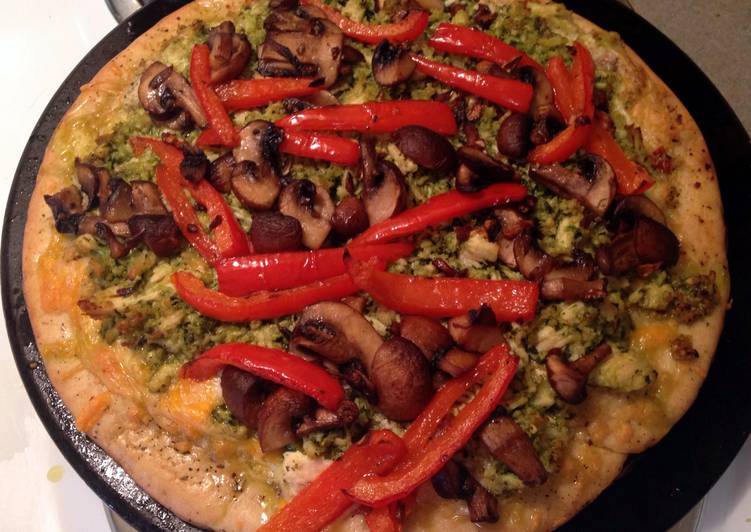 This is one of our favorite recipes. The fresh basil packs so much flavor making this pizza absolutely deliver on pizza night. Spread roasted garlic on pizza crust (mash it and spread), and top with pesto sauce. You can cook 3 Cheese Pesto Chicken Pizza using 11 ingredients and 6 steps. Here is how you cook it.
Ingredients of 3 Cheese Pesto Chicken Pizza
You need 1/2 cup of Shredded Cheddar Cheese.
You need 1/2 cup of Feta Cheese.
It's 1 cup of Shredded Mozzarella Cheese.
Prepare 3 cup of Shredded Chicken (see my chicken salad recipe for technique).
You need 1 large of Sliced Red Pepper.
It's 1 cup of Chopped mushrooms.
You need 5 clove of Chopped Garlic.
It's 1 tbsp of Salt.
You need 1/2 tbsp of Pepper.
Prepare 1 large of Precooked or Fresh Pizza Dough.
Prepare 1/2 cup of Fresh Pesto.
Arrange chicken, and tomatoes over this, and top with sliced chicken breast. If you like a little bite, sprinkle with red pepper flakes. My favorite homemade pizza crust topped with a vibrant pesto sauce, mozzarella, chicken. and a sprinkle of pine nuts. This pesto chicken pizza is fresh, flavorful and absolutely perfect for summer!
3 Cheese Pesto Chicken Pizza step by step
Preheat Oven to 425°F..
Sauté chopped garlic in EVOO until light golden brown and spread lightly on pizza dough as a base..
Spread thin layer or cheddar, mozzarella, and feta cheese..
Sauté shredded chicken with pesto and spread on pizza..
Sauté red pepper and mushrooms and spread on pizza. Add salt and pepper to taste..
Bake until pizza crust is golden brown for 10 – 20 minutes depending on crust. Remove from oven and let stand for 10 minutes. Eat and Enjoy!!.
As popular as our Buffalo Chicken Pizza and Spinach Artichoke Pizza , this Pesto Pizza is a family favorite. Homemade chicken pesto pizza with the crispiest crust, loads of walnut pesto and a kick from pepper jack cheese. to make the pizza dough I used my Kitchen Aid mixer + my mini food processor to make the pesto +my Pizza Stone I'm back with the promised ultimate chicken pesto pizza from scratch! Spread pesto evenly over flatbreads or pizza crust.