Chicken Cordon Bleu Pizza. Elevate taste buds to a whole new chicken variety. Cordon bleu is a French dish combining chicken or veal with ham or prosciutto and Swiss or Gruyère cheese. In this recipe, those flavors are simplified to produce a fantastic-tasting pizza.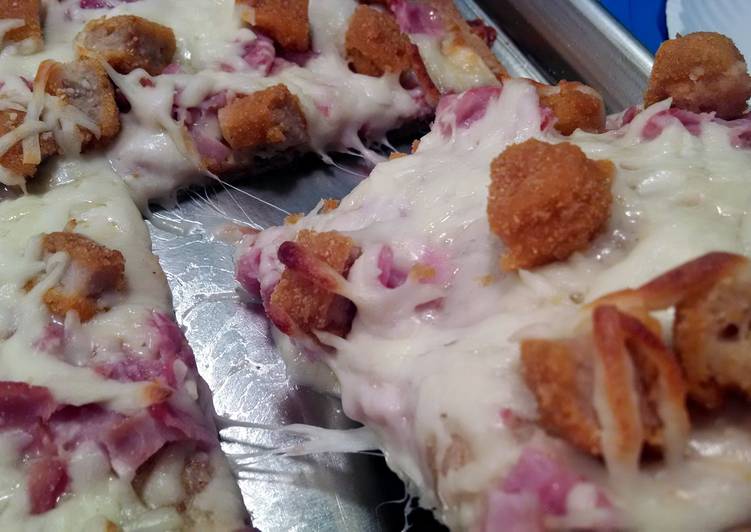 Midweek meals just easier and tastier with this chicken cordon bleu pizza. Made with a Stonefire crust, Jones Dairy Farms Canadian Bacon, pre-cooked grilled chicken, alfredo, mozzarella and parsley. It is easy, tasty, and something the whole family will love. You can cook Chicken Cordon Bleu Pizza using 6 ingredients and 6 steps. Here is how you achieve it.
Ingredients of Chicken Cordon Bleu Pizza
You need 1 of Tube refrigerated pizza crust or homemade if you would like.
Prepare 1/2 cup of Garlic alfredo sauce( I used the kind from the jar).
It's 1 cup of Shredded Swiss cheese.
It's 1/4 lb of deli ham sliced thin and chopped.
You need 10 of Breaded chicken nuggets,thawed and cut into half inch pieces.
It's 2 cup of Shredded mozzarella cheese.
During the week life around here is pretty hectic. So hectic in fact that yesterday. This post is sponsored by CuttingBoard.com. Roll the pizza dough out onto a pizza stone or sheet pan sprayed with cooking spray.
Chicken Cordon Bleu Pizza step by step
Preheat oven to 425.
Unroll pizza dough onto greased cookie sheet; flatten and build up edges slightly.
Bake at 425 for 6 to 8 minutes.
Remove from oven; spread alfredo sauce over crust sprinkle with Swiss cheese.
Then top with ham, chicken nuggets, and mozzarella cheese.
Bake for 8 to 10 minutes longer or until crust is golden brown and cheese is melted.
Spread the white sauce onto the pizza dough. Top the pizza with the shredded cheese, chicken, ham, green onions, and Italian seasoning. This Chicken Cordon Bleu Pizza is one of my all-time favorites! Surprisingly easy to make, but thanks to a dreamy creamy sauce, crispy chicken, and tasty ham, this pizza recipe is killer. This week for Friday night pizza night, I felt like making up a new one, and I have to thank a co-worker for suggesting Chicken Cordon Bleu.