Easy no bake rainbow cheesecake. A no-bake white chocolate rainbow cheesecake that's super simple to make! This rainbow unicorn cheesecake is easy to make and requires no baking. It consists of butter, marshmallows, and Rice Krispies Cereal.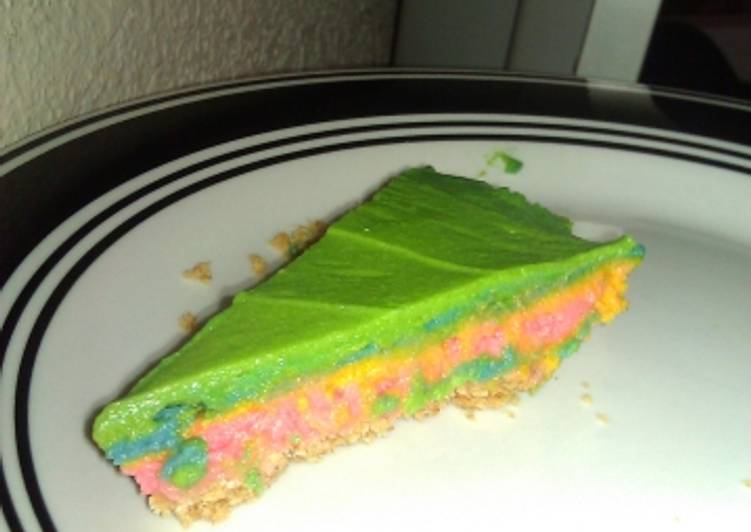 The sweet pastel colours make this perfect for a birthday party or special dessert. When ready to remove the cake from the pan, run a clean narrow knife along the inside edge to loosen the sides of the cheesecake from the pan. Rainbow Cheesecake Recipe: no-bake cheesecake, gluten free and keto friendly. You can have Easy no bake rainbow cheesecake using 3 ingredients and 7 steps. Here is how you achieve that.
Ingredients of Easy no bake rainbow cheesecake
You need 1 box of instant no bake cheesecake.
You need 1 each of of 4 different food colors.
Prepare 1 of pie pan.
The rainbow cheesecake is one of the recipes to prepare if you want to serve a not too sweet dessert, nice to see and good to eat. At first glance, it seems a difficult recipe but in reality what you need is a bit 'of time. An easy, no-bake cheesecake recipe made completely from scratch! Unlike many recipes, there's absolutely no gelatin or condensed milk required for this one!
Easy no bake rainbow cheesecake step by step
make crust per box directions.
mix filling per box directions.
separate filling into 4 equal amounts in seperate containers.
add 1 food coloring to each separate container of filling to desired color and stir..
pour each container onto crust separately smoothing it out as you go along..
when all colors are in poured and spread out chill in fridge per box directions and….
TaDa!!! Delicious and Gorgeous Rainbow Cheesecake :).
Skip the oven and make yourself an easy, authentic-tasting cheesecake from scratch. No-Bake Cheesecake: The Ultimate Easy Recipe. This rainbow no-bake cheesecake is creamy and delicious, and you won't need to touch your oven. Check out the easy-to-follow recipe below, and let us know your own cheesecake recipe ideas in the comments! Pretty pastels stun from inside and out in this light, airy, mousse-like cheesecake.