Berries And' Cream Tarts.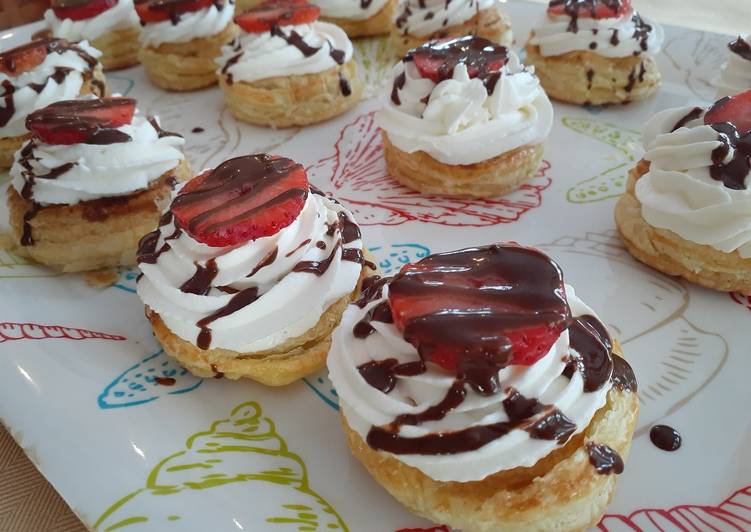 You can have Berries And' Cream Tarts using 13 ingredients and 15 steps. Here is how you cook it.
Ingredients of Berries And' Cream Tarts
You need 2 sheets of puff pastry.
You need 1 of egg.
It's 2/3 cups of granulated sugar + some extra sugar to sprinkle.
It's 2 1/2 cups of heavy cream.
Prepare 1 Tbs of vanilla extract.
You need 1/2 cup of dark chocolate.
You need of Strawberries.
Prepare of Extra Equipment.
Prepare 3 of " cookie cutter (I used a glass).
It's 2 of " cookie cutter (I used a glass).
It's of Puff pastry bag or zip lock bag.
It's of Star tip (optional).
Prepare of Large ziplock bag (for ganache).
Berries And' Cream Tarts instructions
Thaw puff pastry on the counter, then put one sheet on top of the other and press the two together by rolling gently with a rolling pin until about 12×16 inches in size. Do not flour in between. Doubling the sheets will produce higher borders on the tarts. Cut out circles with a 3 inch cookie cutter. Try to cut them out as close as possible, leaving minimal amount of scraps in between..
Remove scraps to a different parchment lined baking sheet. Move each cut out circle about 3/4 inch from each other. Using a 2 inch cookie cutter, press it in the middle of the circle, almost all the way through..
Whisk the eggs together for the egg wash.Using a pastry brush, brush the tops of each circle as well as the scraps that were leftover..
Generously sprinkle tops of the cutout circles with granulated sugar..
Bake in preheated to 425°F for 15 minutes or until puffed up and golden in colour..
For the Ganache: Heat 1/2 cup heavy cream until almost boiling. Pour over 1/2 cup of dark chocolate chips. Let sit for 2-3 minutes. Stir until smooth..
Line a cup with a sandwich size ziplock bag and pour the ganache in..
For the cream: Combine 2 cups heavy cream, 2/3 cup sugar & 1 Tbsp vanilla in a bowl of an electric mixer..
Whip on high until stiff. Fill a pastry bag or a gallon sized ziplock bag fitted with a large star tip with the cream. Refrigerate until ready to use. Try to use within 15 minutes of making it..
Line a large glass or a vase with the pastry bag fitted with a star tip (or a ziplock bag). Set aside..
As soon as the pastries are baked and out of the oven, with your fingers or with a smaller cookie cutter, press in the middle to bring it down, leaving the sides as the borders to our pastries. Let completely cool..
Snip off the end of the ziplock bag with the chocolate ganache and generously drizzle inside of the tarts, leaving about 1/4 of the ganache to drizzle later on top as decoration.
Fill the pastry bag with the reserved cream and then use it to fill the middle with cream as well..
Now slice the strawberries lengthwise and place one on each tart. Using leftover ganache, drizzle each tart..
These pastries are best served cold, right out of the fridge. Enjoy!.