Chocolate Cheese Tart.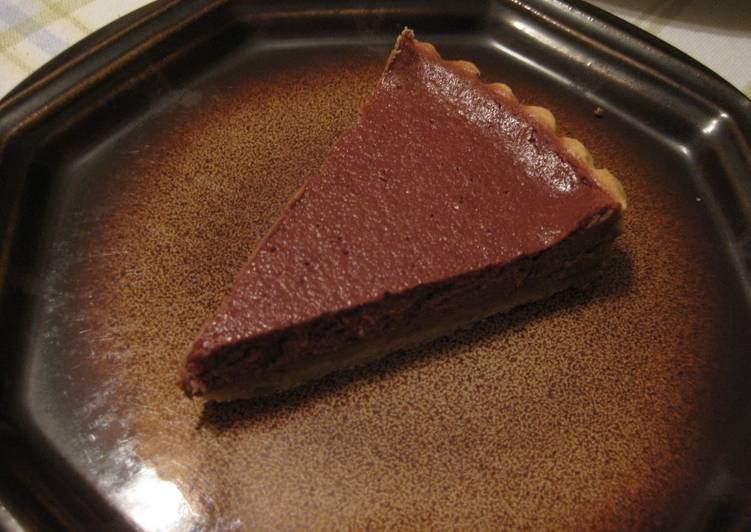 You can cook Chocolate Cheese Tart using 17 ingredients and 25 steps. Here is how you achieve that.
Ingredients of Chocolate Cheese Tart
It's of INGREDIENTS for 21cm tart.
Prepare of – Tart Dough -.
It's 180 g of Butter.
Prepare 95 g of Sugar.
It's 60 g of Egg(about 1 Egg).
Prepare 40 g of Ground Almonds.
Prepare 250 g of Flour.
Prepare of – Filling (Chocolate Cheese) -.
You need 150 g of Cream Cheese.
Prepare 200 g of Cream.
Prepare 90 g of Eggs (about 1.5 Eggs).
You need 50 g of Sugar.
You need 8 g of Flour.
Prepare 6 g of Cornstarch.
Prepare 60 g of Dark Chocolate.
Prepare of – Quantities for Exterior -.
Prepare 1 of Egg for egg wash.
Chocolate Cheese Tart instructions
– Tart Dough -.
Whisk together the flour and the ground almonds and sift; set aside..
Cream the butter and sugar. Add the eggs; stir until well mixed..
Add the flour mixture to the liquid mixture and use a rubber spatula to mix until smooth..
Wrap the dough in plastic and put it in the fridge overnight (at least 8 hours)..
Preheat oven to 350F. Roll out the pastry dough on a lightly floured surface, about 2-3mm thick..
Carefully roll the dough onto the rolling pin to lay it down in a pie mold. Carefully press the dough into the mold and shave off the excess dough with the rolling pin..
Press the dough into the mold so it fits tightly, pressing the edges into the sides of the pan. It is important to press the dough evenly into every nook and corner of the ring..
Punch holes in the tart bottom with a fork to let steam out. Put the tart in the refrigerator for 1 hour to relax..
Place the pie mold on the middle rack of the oven. Bake for 25 min or until the top is slightly brown..
In a small bowl, whisk the egg for the egg wash. Brush the egg solution on the surface of the tart..
Bake another 5 min or until egg wash has dried..
– Filling -.
Preheat oven to 350F..
Add the chopped dark chocolate to a medium bowl and melt in warm water on the stove (50C)..
Sift the cornstarch and cocoa powder into a medium bowl and set aside until use..
Microwave the cream cheese to soften. Add the sugar and mix..
Warm the cream (35C) and add to the cream cheese mixture. Mix well..
Add the eggs to the mixture and mix well..
Add the dry mixture and mix well..
Add the melted dark chocolate and mix well..
Strain the mixture and cover the bowl in plastic wrap. Keep in your fridge for 1 hour..
Pour the mixture into the tart crust..
Bake for 30 min or until filling is solid. Let cool completely..
http://www.chez-k.org/chocolates/chocolate-cheese-tart/.