Sunshine Cream Cheese Tart.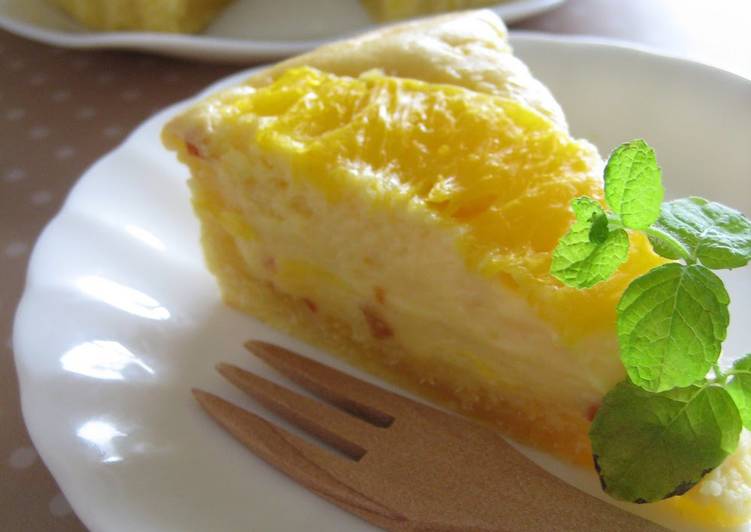 You can have Sunshine Cream Cheese Tart using 16 ingredients and 11 steps. Here is how you cook that.
Ingredients of Sunshine Cream Cheese Tart
You need of [For the tart crust].
Prepare 120 grams of Cake flour.
It's 50 grams of Butter.
Prepare 30 grams of Granulated sugar.
Prepare 1 of Egg yolk.
Prepare 2 tsp of Milk.
Prepare 1 pinch of Salt.
Prepare of [For the filling].
You need 160 grams of Cream cheese.
It's 30 grams of Granulated sugar.
It's 1 of Egg.
You need 60 grams of Yogurt.
It's 50 grams of Candied orange peel.
It's 20 grams of Cake flour.
Prepare 1 tsp of Cointreau (or Kirsch).
You need 1 of Orange.
Sunshine Cream Cheese Tart instructions
Bring the cream cheese and egg for the filling to room temperature. Alternatively, microwave the cream cheese for about 40 seconds (at 500-600 W)..
Make the tart crust. Dice the butter into 1 cm pieces. Put the cake flour in a bowl, add the diced butter and cut it in using a pastry scraper or similar utensil until the mixture is crumbly..
Make a well in the middle, add the granulated sugar, salt, egg yolk and milk, and mix it all together with a spatula (or your hands)..
Press flat together and wrap in plastic film. Rest in the refrigerator for at least 30 minutes. Preheat the oven to 170°C..
Make the filling. Peel the orange and take the segments out of the membrane. If the candied orange peel is in big pieces, chop it up finely..
Mix the cream cheese until it's softened, add the granulated sugar and cream together..
Combine the beaten egg, orange peel, yogurt and Cointreau then mix well. Sift in the cake flour and mix until smooth..
Take the dough out of the refrigerator and roll out to a thickness of 4-5 mm..
Pour the mixture from Step 7 into the crust, and place the orange segments in a spiral pattern on top. Bake for about 25 minutes at 170°C..
All done. Take it out of the mold once it has cooled down a little..
Optionally, decorate with mint leaves (not listed in ingredients), slice and serve..